The ideal fireplace mantel adds character and warmth to your living spaces. It's also a prime decorating area where you can celebrate your family's treasured memories or showcase the season's colors. Design the perfect focal point with our mantel buyer's guide below, with practical considerations, décor tips, and inspiration.
Fireplace Mantel Options
Fireplace Mantel Shelf
A floating slab of wood or stone is attached to the wall directly above the firebox without the added structural or aesthetic support of legs, pilasters, or corbels. This option offers a more streamlined look, ideal for rustic and modern decorating styles. It also suits most modest-sized spaces.
Fireplace Mantel Surround
A complete unit consisting of a mantel shelf and legs or columns that frame the firebox opening. Surrounds often have more intricate designs and an imposing presence, so they're ideal for larger rooms with higher ceilings.
Materials
Find the best material for your fireplace mantel among these popular options below.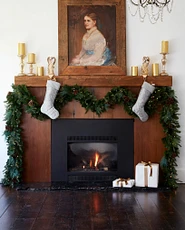 Wood
Wood is sturdy and versatile. It can be cut or carved to suit various decorating styles, from rustic to contemporary. Wood can also be stained or painted to match the rest of your living room décor.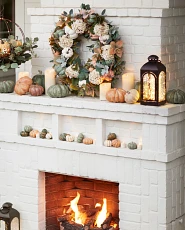 Stone
Stone mantels provide a timeless appeal, with the added benefit of helping retain warmth from the fireplace more efficiently. While typically more expensive than other fireplace mantel options, stone is extremely durable and easy to maintain.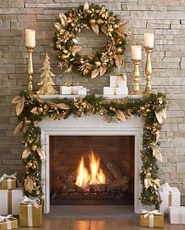 MDF
Medium Density Fiberboard, or MDF, is a cost-effective option for those who like the look and feel of a wood fireplace but prefer to work with something more lightweight. MDF is a non-combustible material with a smooth surface, making it easy to paint or stain according to your specifications.
Sizing
When buying a fireplace mantel, it's important to scale it and its surround to the size and shape of your living room and comply with building and fire codes. The correct specifications ensure the safety and integrity of your fireplace. Generally, you should situate your fireplace mantel a foot above the firebox, with a shelf overhang of at least three inches over the surround. Additionally, you should allow at least three feet of space from the top of your mantel to the ceiling.
Fireplace Mantel Decorating Tips and Ideas
Do you want your mantel to look like it's been styled by a pro? Here are some of our decorating ideas for a mantel.
Choose a Focal Point
A wreath, framed mirror, or large artwork hung above the mantel shelf draws the eye and instantly sets the tone for the rest of the décor. You can also add greenery and candles to create a cozy atmosphere or display a collection of decorative objects that complement the style of your space.
Style by Season
Refresh the look of your mantel with each new season by swapping in essential themed accents while retaining a collection of versatile pieces that can be styled to suit any decorating theme. For example, lanterns or hurricanes are evergreen decorative accents you can fill with sand and seashells in the summer or fairy lights and mini gourds come fall.
Keep It Cohesive With a Theme
A theme keeps your mantel cohesive and purposeful. Contribute to the overall space's decorating style by echoing key pieces or accents found around the room on the mantel or create a little vignette with decorative elements that tell its story right on the shelf.
Layer for Depth
Group pieces in varying sizes to add visual depth and interest to your mantel. Place larger pieces, like picture frames or tall vases, behind smaller elements like snow globes. Step back and survey your mantel and rearrange as needed.
Insider's Tip
Lighting, in the form of small candles and lanterns, amplifies the warm and cozy feeling even without a fire lit. Battery-operated flameless candles are an easy and convenient choice.
Frequently Asked Questions
Here, we answer some common questions on design and décor for mantels.
How Can I Choose the Perfect Mantel for My Fireplace?
Consider the size of your living room and your current home decorating style when choosing the perfect mantelpiece. Larger rooms with high ceilings can afford grander full mantels, while smaller spaces benefit from more minimalist mantel styles. As for the look, take your cue from the existing materials and finishes around your home to determine what kind of mantel fits best.
What Are the Different Mantel Styles and Materials Available?
From traditional and ornately carved full mantels to simple wooden or stone floating slabs, there are plenty of mantel styles and materials to choose from. As long as the design is up to code, choose the one that suits your style best.
Which Balsam Hill Products Are Ideal for Enhancing Mantel Aesthetics?
Balsam Hill offers a wide selection of seasonal fireplace mantel décor, from wreaths and garlands to candles, lanterns, and other decorative accents.
The fireplace mantel is a great opportunity to express your home decorating style. Choose the one that speaks to your personal aesthetic the most, and it will be a dream to decorate. Balsam Hill offers a wide selection of tabletop décor, seasonal accent pieces, and lifelike foliage perfect for your mantel decorating needs. Click the link below to shop our products.
Learn More About Mantel Decorating
Read these next for more fireplace mantel ideas.