Deliver Easter cheer and celebrate the promise of new beginnings with a traditional Easter brunch. Put together an impressive Easter tablescape that mirrors the festive feel of spring in full bloom. Keep reading to see ideas for beautiful Easter decorations from Balsam Hill and more tips for decorating for Easter brunch. 
Best Easter Brunch Décor
Decorate for Easter with these elegant pieces from Balsam Hill. Mix and match them to create a unique and memorable display.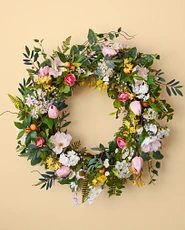 Celebrate fresh starts with a burst of colorful, in-season blooms in all their glory. Our Spring in Bloom Foliage features orchids, freesia, and tulips against vibrant greenery, setting the perfect mood for an Easter event.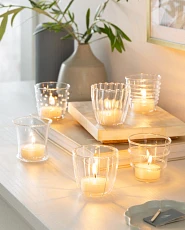 Tealight candles in elegant glass votives evoke a sense of quiet charm and tranquility, perfect for an elegant Easter brunch gathering. Scatter them throughout the length of your tablescape.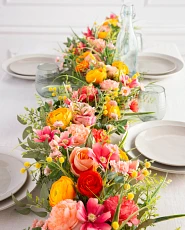 Bring the warm and cheerful colors of a spring day right to your dining table. A floral table runner allows you to celebrate the season, and the right accents make it more Easter-appropriate – try hiding painted or foil-wrapped chocolate eggs right in the foliage for guests to find.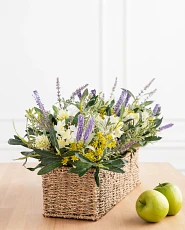 Evoke the beauty of the French countryside with an Easter table décor showcasing lavender blooms. Accentuate these beautiful arrangements with wicker baskets or galvanized steel planters for even more rustic charm.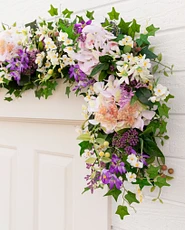 Transform your al fresco Easter brunch into a secret garden in full bloom. Go all-out with matching garlands on entryways and tables, wreaths behind chairs, and hanging baskets.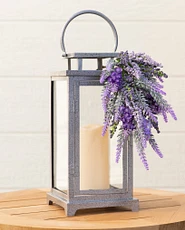 Bring a warm and cozy ambience to your Easter gathering with flameless LED candles inside classic lanterns. Lavender blooms make a charming and elegant touch perfect for the season.
Decorating Tips
Here are more Easter table décor ideas and tips to help you design your most inventive display yet.
Choose a Color Palette
Spring palettes often consist of muted pastel colors set against white or ivory. Alternatively, you can go for bold pinks and yellows. Take your cue from spring foliage when creating your Easter table theme. Whether you go understated or more vibrant, echo the palette across different display areas for a cohesive look.
Consider Edible Centerpieces
A tiered cake or cupcake stand filled with Easter-themed or decorated treats creates a delightful pop of color, with the bonus of making sweet treats or desserts easy for guests to grab. You may also fill vintage glass jars or candy dishes with foil-wrapped chocolate mini eggs.
Include Rustic Accents
Woven baskets, bird's nests, and burlap or rattan textures all scream spring. Incorporate these into your Easter tablescape to complement your spring flowers and foliage. They also provide a homespun touch that perfectly sets off your delicate porcelain or glass tableware.
Create an Interactive Display
Hide painted or ceramic eggs, wrapped candy, and other treats in the foliage of your garland table runner and encourage guests to hunt for them. If you have small children joining your brunch, set up a smaller table with a matching display, but include more interactive activities or Easter crafts to keep their little hands busy.
Frequently Asked Questions
Here we answer the most common questions about Easter decoration ideas.
How to Decorate My Table for Easter?
Start with a crisp white or ivory tablecloth. As Easter is often associated with pastel colors, consider using shades of pink, blue, green, yellow, or lavender as your primary color palette for the rest of the table settings and décor. These soft hues evoke a sense of springtime and renewal. Use spring flowers and foliage to bring a touch of nature to your Easter tablescape. Other Easter-themed tabletop décor includes painted eggs, decorative bunnies, birds, woodland creatures, baskets, and candles or lanterns.
How Can I Create a Stunning Easter Table With Artificial Flowers and Wreaths?
Create a stunning centerpiece by laying a spring floral wreath on its side and filling the center with other Easter-themed décor accents like painted eggs, a large candle in a clear vase or jar, or a ceramic or wooden bunny figurine. Alternatively, layer a long spring garland decorated with flowers over a burlap or lace table runner.
We hope this article has inspired you to get creative with your Easter table decorations this year. To see Balsam Hill's full selection of Easter décor, click the link below. For more decorating inspiration, check out our online catalog.
Find More Spring Decorating Tips
Check out these related articles from our Resource Center.