Christmas tree skirts are a beautiful way to dress up your tree. Figuring out what size to get, however, can be tricky as tree skirt sizes come in many different options. In this guide, we share tips and recommendations to help you choose the right skirt for your tree.
What Size Tree Skirt Do I Need?
How big your tree skirt should be depends on the height of your tree and how much coverage you prefer. Below is a breakdown of the sizes we offer and which tree heights they're most suitable for.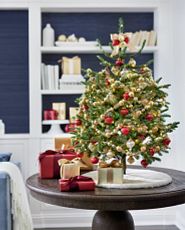 Small Christmas Tree Skirts: 18 to 36 Inches
18-inch tree skirts pair well with miniature tabletop trees, while 24 to 36-inch skirts are ideal for 4 to 5-foot Christmas trees. The smaller tree skirt size is elegant and adds holiday cheer without taking up too much space.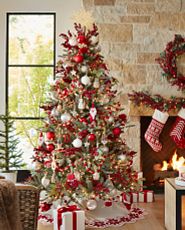 Medium Christmas Tree Skirts: 48 to 60 Inches
Medium-sized tree skirts look best with 6-foot to 7.5-foot Christmas trees. They're big enough to obscure the tree stand and provide space for presents. These are perfect for trees displayed in the living room or foyer with standard 9-foot ceilings.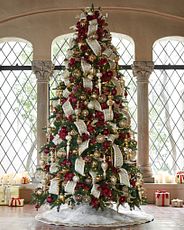 Large Christmas Tree Skirts: 72 to 84 Inches
Bigger tree skirts are best suited for 8 to 9-foot and 10 to 14-foot Christmas trees. These giant trees are commonly found in rooms with vaulted ceilings or hotel lobbies and business centers that feature a grand holiday display.
Insider's Tip
A good rule of thumb for Christmas tree skirt size is to use one that's at least 6 inches bigger than the full width of your tree. So if your tree is 54 inches wide, you need a 60-inch tree skirt.
More Questions About Christmas Tree Skirts?
Here are answers to some commonly asked questions about Christmas tree skirts.
Do You Need a Christmas Tree Skirt?
Tree skirts aren't necessary, but they can help tie the look of your Christmas tree together. Here are some of the benefits of using one for your tree:
Tree Skirts Hide Stands

Unless you have a decorative tree stand, most stands are utilitarian and have protruding screws. With a tree skirt, you can hide unsightly stands while providing a picture-perfect backdrop for gifts.

Tree Skirts Complement the Tree

Whether you have a classic or novelty theme, there's always a tree skirt that matches your style. Choose one in a color that contrasts with your floor to create visual interest.

Tree Skirts Catch Falling Needles

If you have a real tree, you can do away with sweeping the area underneath by using a tree skirt to obscure small dry needles.

Tree Skirts Make Great Heirlooms

Many families pass them down from one generation to another, adding a sense of nostalgia to their décor while making celebrations more meaningful.
What Can I Use Instead of a Tree Skirt?
A Christmas tree collar is a popular alternative to a tree skirt. They can be made from wood, plant fibers, or metal. Household items such as blankets, mohair throws, or scarves are also good options.
How Do You Attach a Christmas Tree Skirt?
Once you're done dressing up the tree, fan out the tree skirt around the base then wrap the fabric around the stand. Depending on the style, you can button up or tie together both ends of the skirt to keep it in place.
We hope this guide helped you learn more about tree skirt sizes and which one to get for your tree. Browse our entire selection of Christmas tree skirts at the Balsam Hill website. 
Learn More
Read these articles next for more information on decorating with Christmas tree skirts: