A fully decorated Christmas tree is a sight to behold — a tree topper perched up high, branches dressed in ornaments, and festive lights. Collars are great alternatives to traditional tree skirts and can be the perfect finishing touch to your tree. In this article, we will explore some of the best Christmas tree collars that will make your tree stand out this holiday season.
Introduction to Christmas Tree Collars
What Is a Christmas Tree Collar?
Tree collars are decorative coverings that go around the base of the tree, providing a refined and finished look to your display. These offer more coverage than tree skirts and are commonly made of metal, wood, or natural fibers.
Do You Need a Christmas Tree Collar?
While a tree collar can enhance the overall look of your tree and complement your holiday décor, it's not necessary for decorating your Christmas tree. You can still create a beautiful and festive tree using traditional tree skirts, garlands, and ornaments. Ultimately, whether or not you choose to use a tree collar is a matter of personal preference and style.
What Is the Difference Between a Tree Collar and Skirt?
The main difference between a tree skirt and a tree collar is appearance and level of coverage. A tree skirt is a piece of fabric that's draped around the base of the tree, covering the stand and any unsightly cords or wires. A tree collar, however, sits around the base of the tree to conceal the stand.
What Size Christmas Collar Do I Need?
Christmas trees under 7 feet pair well with Balsam Hill's small collars that measure up to 29 inches in diameter. For trees that are 7 to 11 feet tall, we recommend our large collars that come in 34 inches and can cover tree bases up to 32 inches in diameter.
Christmas Tree Base Decoration Ideas
Check out these festive tree base ideas that our designers recommend.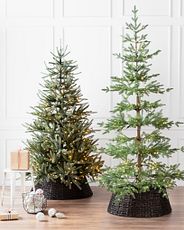 Earthy Appeal With a Basket Collar
Made from handwoven cattail plant fibers, this basket Christmas tree collar creates a beautiful textured look for your display. Our Woven Tree Collar is available in two sizes in either a light brown or chestnut color.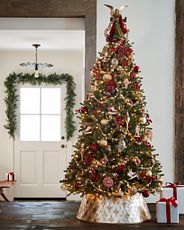 Shine and Sparkle With a Metallic Collar
This tree collar features natural capiz shells and a gilded metal frame in a matte finish. Perfect for a glam or metallic-themed décor, this gold Christmas tree collar is a striking accent to your glass ornaments and sparkling ribbons.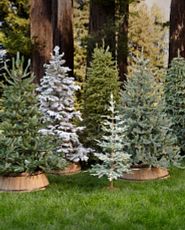 Rustic With a Wooden Barrel Collar
Inspired by whisky barrels, this wooden Christmas tree collar features vegan leather trim and iron rivets for that rustic look. The collar is made from fir wood and comes in three parts with latching hinges for quick assembly.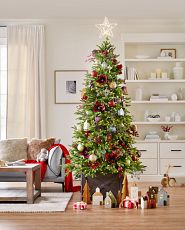 Weathered Chic With a Wooden Crate Collar
For a modern farmhouse look, go with a Christmas tree box collar. Our Wooden Crate Collar is available in four colors and features hinged panels that interlock to protect the bottom part of your tree.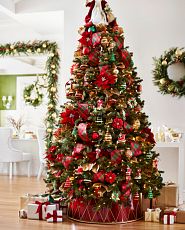 Nostalgic With a Christmas Drum Collar
Handcrafted from galvanized iron, our Christmas Drum Collar comes in a classic red color and features a gold rope trim. This is an ideal choice if you're going for a traditional Christmas decorating theme this year.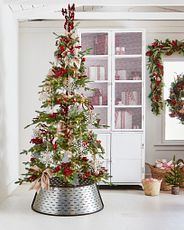 Modern Industrial With an Olive Bucket Collarolive Bucket Collar
Our Olive Bucket Collar is made from iron and designed with the rugged look of slatted metal buckets. Whether industrial or farmhouse, this versatile collar complements a variety of decorating styles.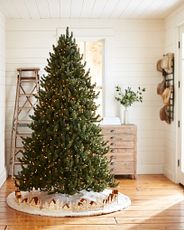 Delightful Charm With a Christmas Village Collar
Create an enchanting scene for your gift-giving traditions with our Christmas Village Tree Collar. This handcrafted collar features six connectible pieces and comes pre-lit with warm white LED lights.
More Questions About Tree Collars?
Here are answers to some commonly asked questions about Christmas tree collars.
How Do You Cover an Artificial Tree Base?
You can use a tree collar to cover an artificial tree's base. Wrap it around the metallic feet of your tree and— depending on how they're made — hinge its detachable sections or attach its magnetic sides to each other.
What Can I Use as a Base for My Christmas Tree?
Aside from collars and skirts, some Christmas tree base ideas include using everyday household items such as blankets, throws, or scarves. You can also repurpose a piano stool as a tree stand for your small Christmas tree. Another option is to take out the planter boxes you used in spring or summer and use them as the base.
What Are Some Tree Collar Alternatives?
Christmas tree skirts are beautiful alternatives to tree collars. Balsam Hill offers a wide assortment of skirts in various sizes and designs to suit any decorating style. We also have matching stockings for some of our tree skirts to complete your holiday display.
We hope our list of Christmas tree base cover ideas gave you inspiration for your holiday décor this season. Visit the Balsam Hill website to see our full collection of tree collars, skirts, ornaments, and more.
Learn More
Find more decorating tips for your Christmas tree base. Read these next: