Using artificial flowers allows you to get creative with your spring décor. From floral wreaths to garlands and various arrangements, there's something to suit every space. One of the more popular ways to highlight the season's blooms is to use hanging baskets to create a more balanced look. Read our quick guide to learn how to choose the right types for your space, where to place them, and how to care for them.
Frequently Asked Questions About Artificial Hanging Baskets
Below we answer your common questions about hanging artificial flowers for spring.
What Are Hanging Baskets?
Hanging baskets are flower arrangements suspended from hooks. You often see them on front porches, but you can also hang them on doors, windows, and corners of a room. Using hanging baskets is a convenient way to display seasonal flowers at eye level if you lack space for potted arrangements or vases
How Should I Take Care of My Artificial Hanging Baskets?
To keep the appearance of your artificial flowers, follow the manufacturer's guidelines for cleaning and storage. Wipe the petals and leaves with a soft, dry cloth, and avoid using water or chemicals to prevent damage to the material. During the off-season, store them in a cool, dry place.

For outdoor flower basket displays, choose Balsam Hill's Outdoor-Safe Florals with UV protection to prevent fading and sun damage. It's best to display them outside for up to three months each year to maintain their bright colors.
How Do I Choose the Best Artificial Hanging Baskets for Me?
To find the right hanging basket, consider your favorite colors and your home's color scheme. If you plan to hang them outside, pick outdoor-safe flowers. Look for realistic options that closely resemble natural flowers. Balsam Hill's lifelike artificial hanging baskets are a great choice to create natural-looking décor.
How Can I Arrange Artificial Flowers in a Hanging Basket?
To create a professional-looking floral basket display, follow these steps:
Cut foam and create holes to hold the stems.
Trim the stems to fit the basket using wire cutters or scissors.
Insert the stems into the foam evenly, creating your desired shape.
Adjust the blooms for a more realistic appearance.
Hang the basket in a covered outdoor space, away from harsh weather and direct sunlight.
The Best 4 Artificial Hanging Baskets by Balsam Hill
Balsam Hill's artificial hanging florals come in various containers such as coconut coir in an iron carrier, rattan, and seagrass baskets. Some also have a built-in chain for easy hanging or a long ribbon and a pre-tied bow for a stylish display.
Most of our artificial hanging baskets are part of full collections for effortless decorating. These collections include wreaths, garlands, potted arrangements, and window boxes. Here are some of Balsam Hill's most popular hanging baskets for this season. Each conveys a unique look to suit various spring decorating styles.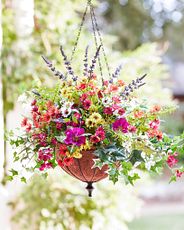 Outdoor Meadow
This lush and vibrant hanging basket features chrysanthemums, lavenders, wildflowers, and mixed greenery. Outdoor-safe with UV protection, it's ideal for display on your porch and patio. Also available as a wreath, garland, window box, and potted arrangement.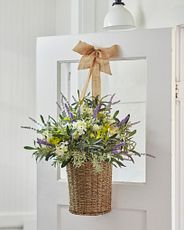 French Market Floral
This arrangement features purple cattails, white lilacs, and thistle with mixed greenery to recreate the beauty of springtime in Paris. Set in a woven seagrass basket, it comes with a pre-tied bow and a burlap ribbon to make it easy for you to style your door, mantel, or kitchen window.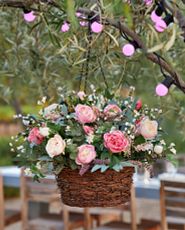 Outdoor Provence Rose
Designed with cottage roses, eucalyptus leaves, dock stems, and ivy leaves, this hanging basket brings warmth and romance to your celebrations. Each bloom features more than 40 layers of handcrafted petals for fullness and realism. Set in a rattan basket for a rustic touch.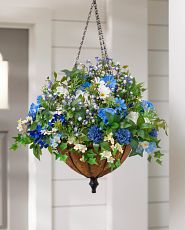 Outdoor Seaside Cottage
Inspired by the tones of surf and sky, this hanging basket features an array of daisies, lisianthus, forget-me-nots, ivy leaves, and baby's breath. It's set with coconut fiber in a metal carrier and is also available as a wreath, garland, and potted arrangement.
Add color to your spaces this season with our wide selection of artificial flowers. Click on the link below to see our full collection of spring wreaths, garlands, hanging baskets, and more.
Brighten Every Corner of Your Home
For more spring décor tips, check out these articles.