Make the most of the crisp, autumn weather by creating inviting spaces outside your home. In this article, we share outdoor decorating tips to help you spruce up your porch, patio, and other exterior areas for the fall season.
1. DECORATE YOUR FRONT PORCH WITH OUTDOOR FALL FOLIAGE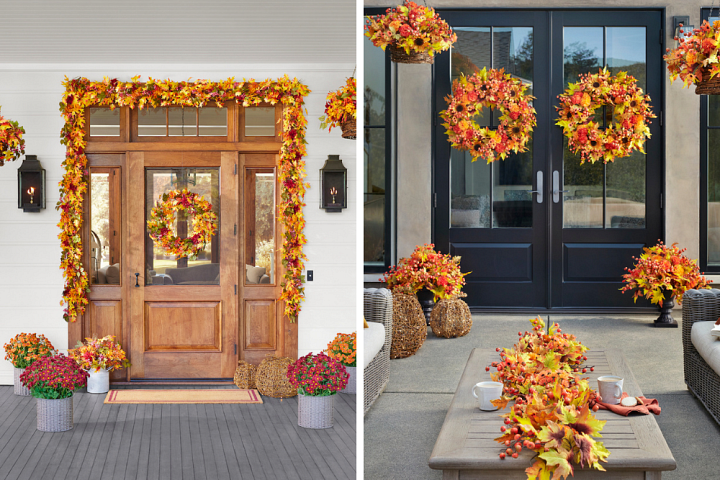 Display fall décor for the front porch such as garlands and wreaths to draw attention to your entryway. This creates a warm welcome for guests and is a quick way to transition from summer to autumn. You can also make a statement with minimal effort by using the same type of foliage as the centerpiece for your al fresco table setting. Apart from these fall porch décor ideas, you can also dress up your patio with potted mums, TOPIARIES, and artificial flower arrangements.
Insider's Tip
Place outdoor fall decorations where they're visible, but not in the way of passersby. Arrange them in a uniform order for a clean look or mix them up for stylish flair.
2. DISPLAY COZY TEXTURES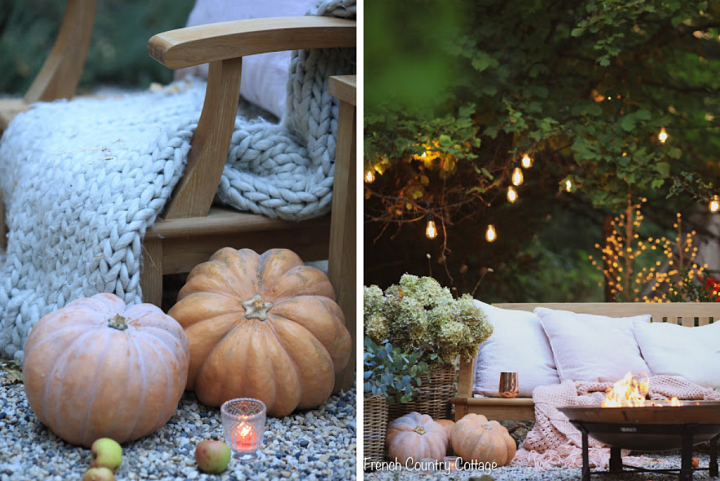 Natural elements such as wood, woven materials, and metal give your outdoor space a rustic feel. Meanwhile, softer textures like knitted wool or flannel blankets make for a cozier atmosphere.
Rearrange your outdoor furniture for comfortable lounging. Add cushioned seats or a rocking chair, then lay out some pillows, chunky throws, and plaid blankets. These make your fall patio decorations look more inviting and keep you warm on chilly evenings.
Insider's Tip
Set out a basket of folded throws to use when the cool breeze sets in.
3. USE PUMPKINS AND MORE TO MAKE YOUR FRONT PORCH POP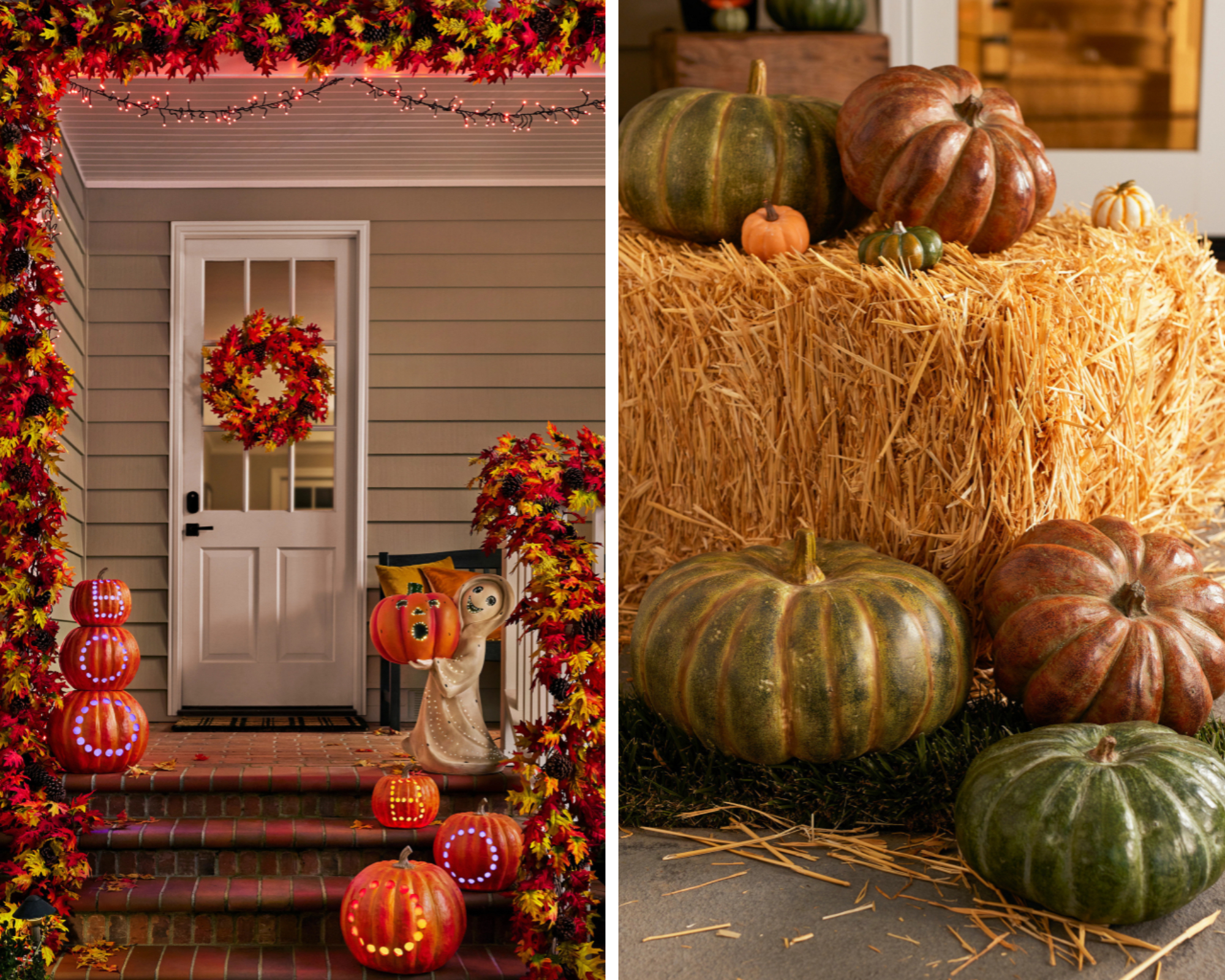 Pumpkins are an essential part of outdoor fall décor. Highlight your front door, steps, and pathways with clusters of pumpkins in different shapes, sizes, and textures. Stack them on the floor, a bench, or a table. You can also create your own pumpkin patch with gourds, greenery, and harvest-inspired accents like corn stalks and hay bales.
4. ACCESSORIZE YOUR PORCH WITH WHAT YOU ALREADY HAVE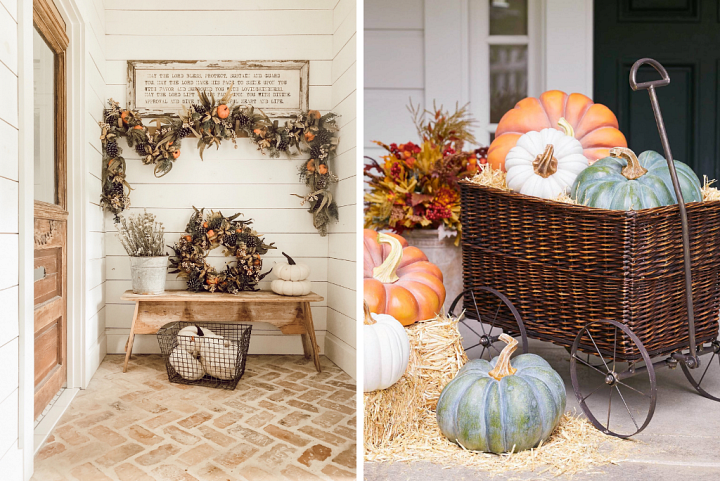 Add interesting details to your fall yard décor with things you have lying around. Mix and match pieces that fit your decorating theme. For a farmhouse style, repaint old lanterns and fill them with small pumpkins and pinecones for a unique showpiece. You can also reuse vintage items, like an old watering can or a small wicker basket, then fill them with bundles of dried leaves and stalks.
5. USE WARM LIGHTS FOR COOL NIGHTS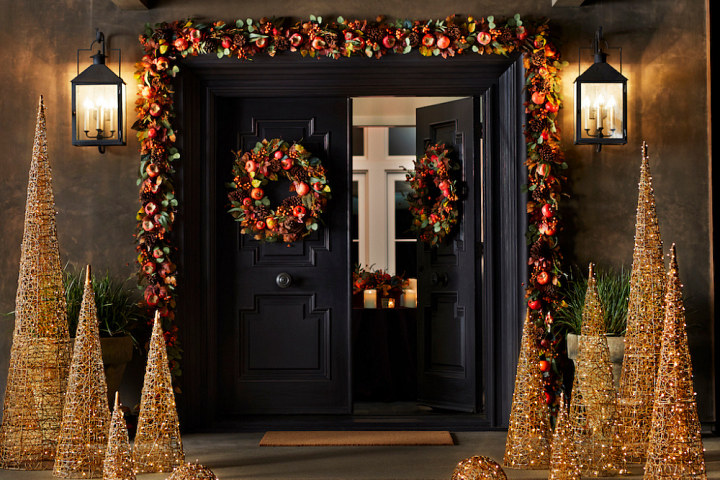 Create a cozy autumn atmosphere with the right type of lighting. An easy way to liven up your fall décor for patio is to use pre-lit greenery, pumpkins, or twig trees. Give your exterior areas a welcoming ambience with soft lights and lanterns.
For al fresco dining, complete your table setting with LED CANDLES. They radiate the same glow of real candlelight without the mess of wax drippings or the hazard of an open flame.
Insider's Tip
Customize your fall lanterns by tucking a flameless candle and autumn leaves inside.
6. PLAY WITH AUTUMN COLORS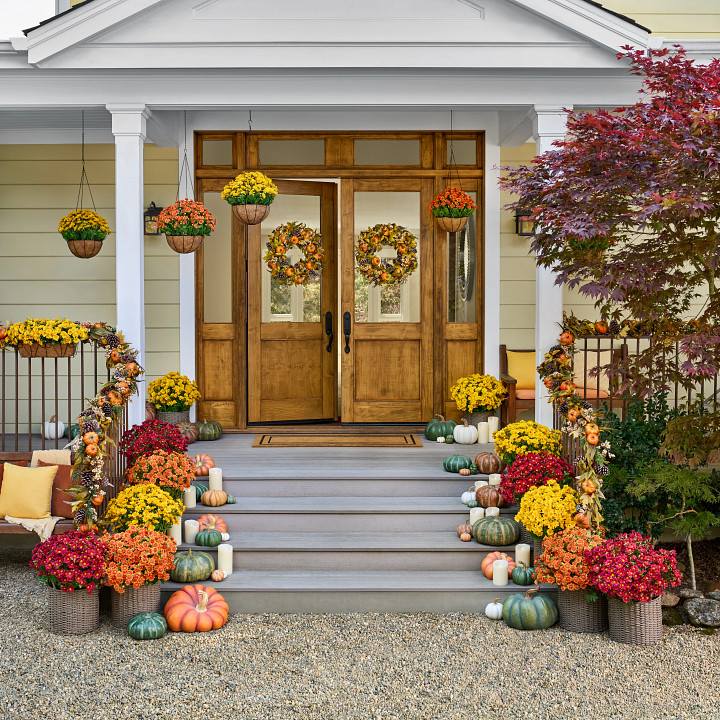 Look outside to find inspiration for your color palette. Create a vibrant display featuring rich shades of yellow, red, orange, and brown. If you want something subtle, choose neutral-toned fall greenery. Crisp whites matched with muted orange, green, and brown make a sophisticated fall scheme.
7. CREATE HARVEST ARRANGEMENTS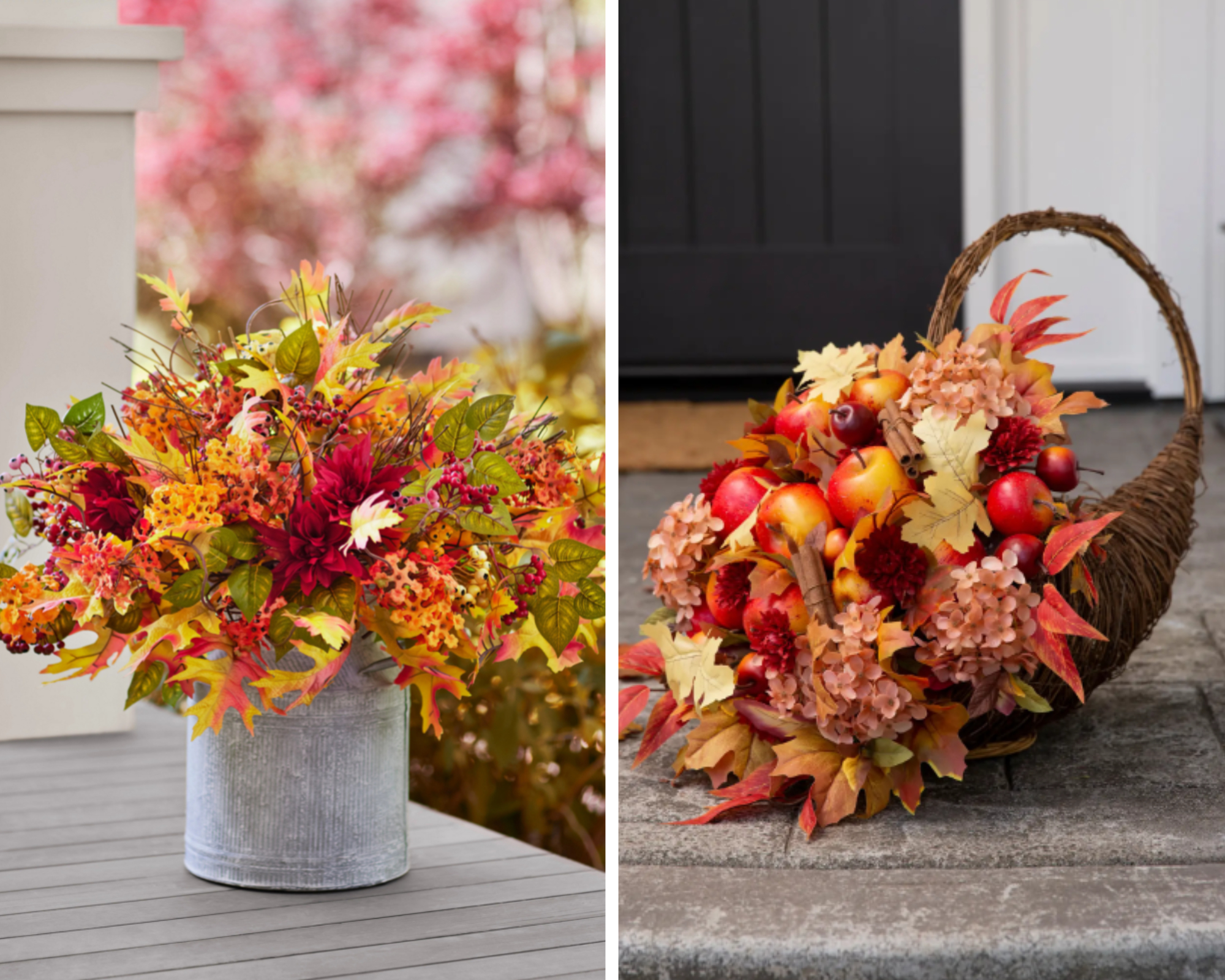 Autumn is the perfect time to showcase nature's bounty. Think bundles of wheatgrass in tall crystal vases or rustic watering cans filled with fall foliage and berry picks. For your al fresco lounge area, turn a crate upside-down and use it as a coffee table. Fill a bowl with an assortment of autumn leaves or make a cornucopia with apples and persimmons for your centerpiece.
8. INCORPORATE HALLOWEEN DÉCOR FOR A SMOOTH TRANSITION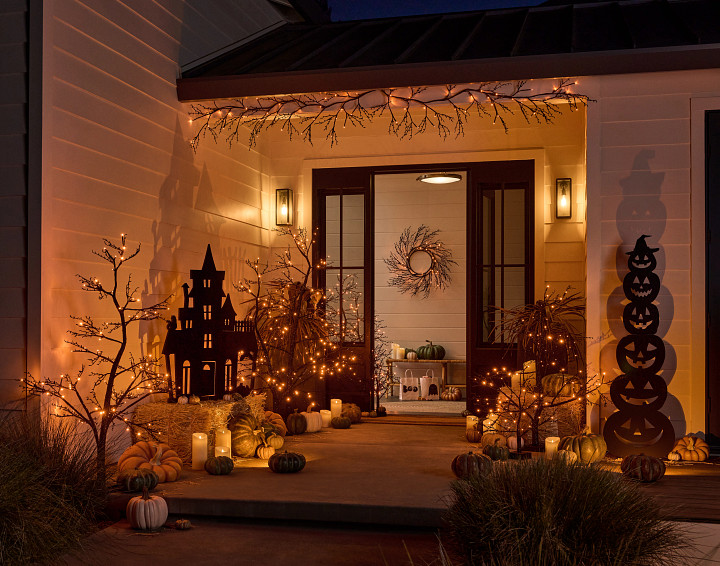 Add elements like Jack-o'-lanterns and twig trees into your display. For a more subtle approach, pair bright orange pumpkins with matte black lanterns, then wrap fall greenery in LED lights to add to your patio's eerie look. On the night of, go all out with your spooky décor and showcase ghost figurines and life-size silhouettes.
9. DESIGN A VERTICAL FRONT DOOR DISPLAY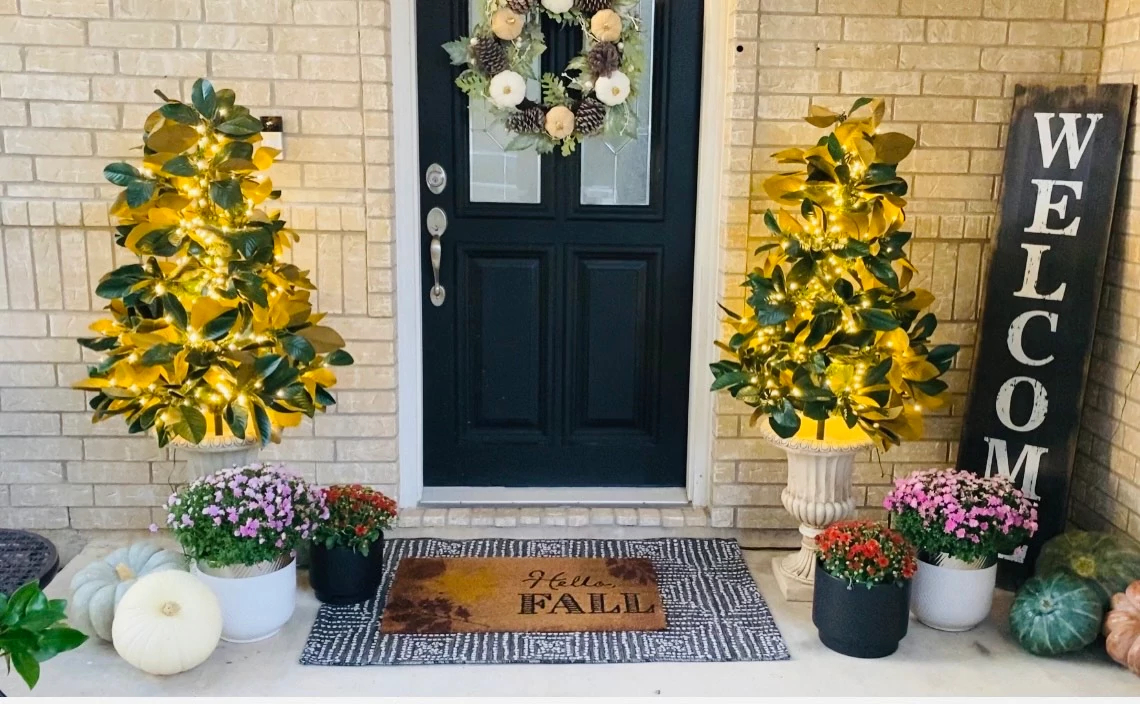 This simple fall décor for the front porch is perfect for those who have limited space. Aim for a minimalist display with an upright welcome sign to greet guests. Set a few potted flowers and urn fillers that complement your hanging fall door wreath. Complete the look with a coir doormat for a homespun feel.
10. GO BEYOND THE FRONT PORCH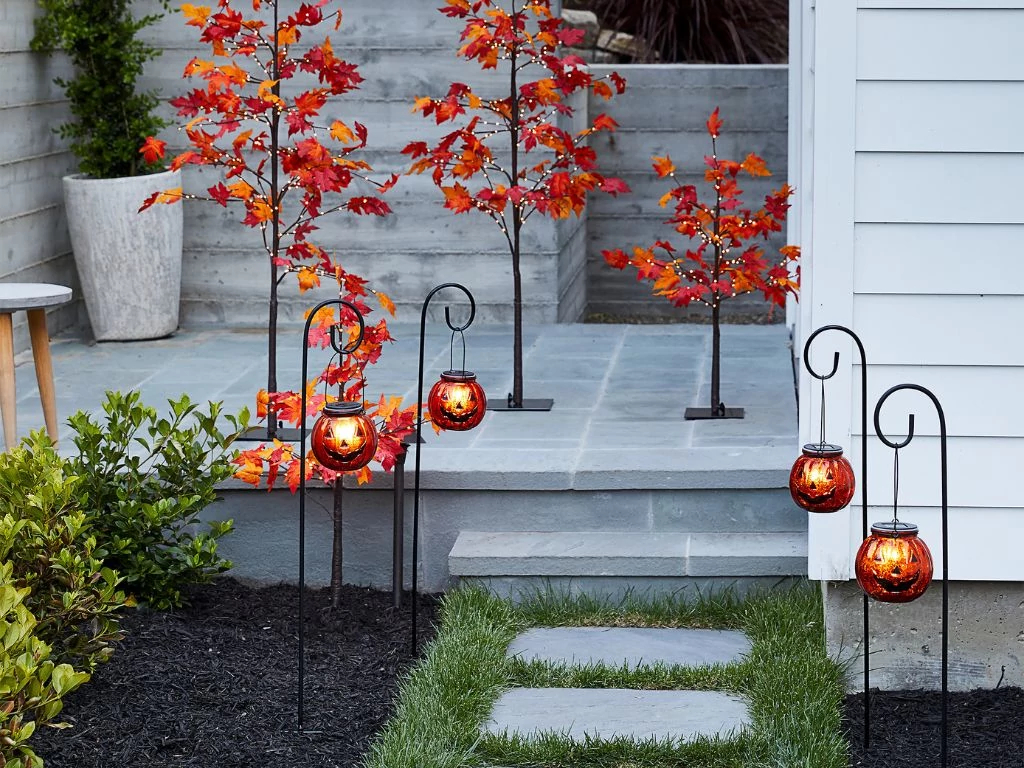 If you have more space, extend your fall decorations beyond your porch or patio. Think pumpkin lights on your pathway, plaid blankets at the garden lounge area, or an outdoor dining table for your backyard. These are great ideas for when you want to entertain guests for autumn events like Halloween or Thanksgiving.
Insider's Tip
Use pre-lit mini pumpkins in place of LED candles to brighten up your table setting in the evenings.
We hope these simple fall décor ideas for the front porch and patio inspired you to transform your exterior spaces into a cozy setting for your loved ones. Browse your favorite items from this guide below.
LEARN MORE ABOUT FALL PATIO DECORATING
Want more front porch and outdoor fall décor ideas? Check out the articles below.
UPDATING YOUR SEASONAL DECORATIONS? HOW TO TRANSITION FROM ONE SEASON TO THE NEXT
THANKSGIVING DÉCOR TO CREATE AN INTIMATE AND COZY CELEBRATION