There are many types of Christmas trees and finding the perfect one for your home could be tricky. Is it prone to drying out? Does it look good with ornaments? Are the branches sturdy? To help you decide, we've made a list of the most popular Christmas trees in nature, along with their Balsam Hill counterparts, and what makes each of them special.
What Type of Tree Is a Christmas Tree?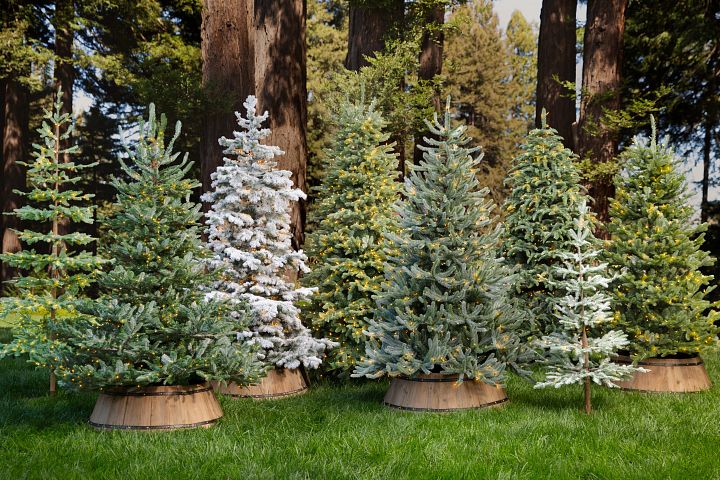 The most common types of real Christmas trees are firs, spruces, and pines. These are coniferous trees that grow and thrive in different locations. Know more about their different characteristics below:
FIR

Fir trees are abundant in the mountains of Central and North America, Europe, Asia, and North Africa. They have individual, flat needles that grow in a spiral on each branch tip. Fir needles are flat and softer compared to spruce needles which are sharp and easy to roll between fingers. The most popular type of Christmas tree species in this family includes the balsam fir, fraser fir, and noble fir.

SPRUCE

Spruce trees grow in mountainous regions of Western and Northern America. They're distinguishable by their pyramidal shape, four-sided needles, and downward-hanging cones that visually contrast their upturned branches. The most well-known spruce species includes the blue spruce, Norway spruce, and white spruce.

PINE

Compared to spruce and fir trees, pine needles grow in clusters. This makes them look denser than they are despite having fewer branches than other evergreens. Pine trees are also more sparse, allowing you to decorate with larger ornaments for the holidays. The Scotch pine and Eastern white pine are the most common pine species used as Christmas trees.
What Are the Different Types of Christmas Trees?
Here are of the most popular species often used as Christmas trees.
More Christmas Tree Tips
Which Tree Is Best for Christmas?
This depends on what you're looking for in a Christmas tree. If you want it to last, the fraser fir is known to be the longest-lasting among all the Christmas tree species. If fragrance is an important factor, the balsam fir is famous for its scent. If you want the beauty and realism of a Christmas tree but don't want to worry about watering it, dealing with sap, and cleaning up dried needles, investing in a high-quality artificial Christmas tree is a good option.
What Type of Artificial Christmas Tree Is Best?
Similar to real Christmas tree species, there are also different types of artificial Christmas trees. Whether you're looking for a fir, spruce, or pine, there's a Balsam Hill tree that can suit your style and space. Consider the following factors when choosing which artificial Christmas tree to buy:
Convenience

At Balsam Hill, we believe the holidays should be as stress-free as possible. Our FLIP TREES® eliminate the need for heavy lifting, while our PRE-FLUFFED® trees cut down the time you need to fluff and shape your tree.

Technology

Balsam Hill trees feature innovative technologies for effortless holiday decorating. Our EASY PLUG® set-up makes lighting your tree as easy as plugging it into a wall socket. Our APP-CONTROLLED CHRISTMAS TREES, on the other hand, let you create a dazzling light show by choosing from pre-set options or customizing the effects in just a few taps from your Twinkly app.

Realism

We took inspiration from nature in designing our MOST REALISTIC ARTIFICIAL CHRISTMAS TREES. Made with our exclusive award-winning technology, our signature trees mimic the color, shape, and texture of actual tree cuttings.
What Is the Most Popular Type of Artificial Christmas Tree?
Many of Balsam Hill's trees are designed after real Christmas tree species. Some of the most popular include the BH FRASER FIR, BH BALSAM FIR, and VERMONT WHITE SPRUCE. These trees are available in a range of sizes, shapes, and styles to suit your home and decorating theme. You can also find them as matching wreaths and garlands, swags, hanging baskets, and other HOLIDAY GREENERY.
We hope this list of the most popular Christmas trees helped narrow down your choices. Check out more of our realistic trees on our website.
Shop Artificial Christmas Trees
Find the Best Type of Christmas Tree
Let us help you choose the best realistic artificial Christmas tree for your home with our buying guides.
Top 10 Most Realistic Artificial Christmas Trees
Choosing an Artificial Christmas Tree: The Ultimate Buyer's Guide
How To Choose an Artificial Christmas Tree Using the Balsam Hill Branch Sample Kit