Al fresco dining offers the opportunity to savor a delightful meal and good company while surrounded by nature's tranquility. To enhance your experience, we've created this guide with outdoor dining setup tips for selecting the right backyard furniture, illuminating your exterior space, and creating the perfect atmosphere with decorative accents.
Selecting Furniture
The cornerstone of an enticing dining setup is furniture that blends comfort with aesthetics. Here are some factors to consider when choosing al fresco furniture:
Durability
Choose materials like teak or wrought iron that can withstand the elements while maintaining their appeal. Make sure they're labeled outdoor-safe before setting up.
Comfort
Look for ergonomic chairs and tables to ensure a comfortable dining experience. Add some pillows and throws for a relaxing look.
Style
Go for pieces that reflect your style. If you want a cozy feel, choose rustic wooden chairs. As an alternative, use sleek and contemporary pieces for a modern look.
Insider's Tip
For small spaces, opt for foldable or stackable furniture that allows flexible setup and storage.
Another option is to use space savers like benches with storage or extendable tables.
Lighting the Space
If you're planning to host a party that will go on until the evening, here are some outdoor lighting tips and options that can help you set the mood: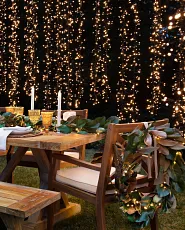 String Lights
Drape them around trees or along the fence for a starry night effect. Another idea is to use pre-lit wreaths and garlands for more decorating flexibility and convenience.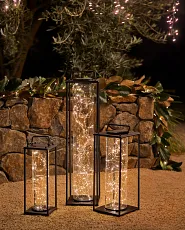 Lanterns
Use lanterns to welcome guests or guide them to your al fresco space. Spread them across the dining area or group them together for visual interest.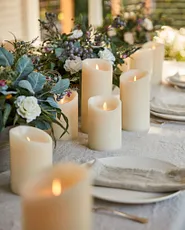 Flameless Candles
LED candles add a romantic touch without the fuss of cleaning up wax drippings. Opt for flameless votive candles or tea lights as dining table décor for a more subtle look.
Choosing Outdoor Dining Décor
Here are some tips for choosing decorations for your gatherings:  
Choose décor that goes well with the natural surroundings, like wooden planters, stone sculptures, or artificial outdoor plants. 

Use plush cushions, cozy throws, and outdoor rugs to create a warm and inviting atmosphere. 

Embrace the seasons with themed décor. Think pumpkins and warm tones for fall, flower arrangements for spring, and tablecloths in vibrant colors in summer. 

Keep a scent diffuser with citrus fragrances nearby to keep away mosquitoes and insects, especially at night. 
Frequently Asked Questions
Here are some answers to frequently asked questions to help you plan your outdoor dining events.
What Are the Best Materials for Outdoor Dining Furniture?
Outdoor dining and patio furniture made from teak, wrought iron, and aluminum is known for its durability and weather resistance.
Are Artificial Flowers Suitable for Outdoor Use?
Yes, high-quality artificial flowers can provide a low-maintenance and lovely appeal to porches, patios, and yards.
What Can I Put On My Outdoor Dining Table?
Consider placing a mix of functional and decorative items like condiment caddies, napkin dispensers, candle holders, or a centerpiece vase with spring flowers.
What Types of Lighting Fixtures Are Most Suitable for Different Outdoor Dining Settings?
The choice of lighting fixtures depends on the desired ambience. Use string lights for a festive touch, lanterns for a traditional look, or LED candles for an intimate feel.
Create countless evenings of joy under the peaceful open sky by selecting the right furniture, lighting, and dining décor. Click the button below to see the rest of our spring decorations.
Learn More About Decorating Outdoor Spaces
For more outdoor décor inspiration, visit the links below.