Setting the scene for a memorable Mother's Day involves more than just thoughtful gifts and heartfelt cards. A standout Mother's Day dining room décor with vibrant faux florals can elevate the celebration, making it truly unforgettable. In this guide, we'll show you how to transform your space using elegant flower arrangements, wreaths, garlands, and more.
Why Artificial Flowers Are Perfect for Mother's Day Décor
Over the years, faux florals have evolved from mere imitations to artful pieces that capture the beauty of natural blooms. Using artificial flowers for home décor has the following advantages:
Lasting Beauty
Artificial flowers last longer than their perishable counterparts, providing a lively and colorful dining space long after special occasions.
Versatility
Artificial flowers have come a long way and now offer a range of realistic choices. Whatever your dining room style, there's a floral piece that will seamlessly blend in with your décor.
Pollen-Free
Our artificial flowers are made from polyester fabric, which has a similar texture to real flowers, making them a safer option for those allergic to pollen.
Read our guide to artificial flowers and why you should choose Balsam Hill to learn more.
Choosing the Right Artificial Flower Décor for Your Dining Room
The dining room serves as a sanctuary of shared stories, laughter, and unforgettable meals. Your decoration for Mother's Day sets the stage for these precious moments, especially on an occasion as special as this.
Room Color Scheme and Design
Whether you're drawn to pastel hues or bold, rich colors, selecting floral arrangements that complement or contrast your dining room's palette can create a harmonious or dynamically contrasting visual appeal.
Type of Décor
Floral décor is not just limited to vases on tables. Consider: 
Desired Ambience
The flowers you choose set the tone. For a cheerful setting, opt for bright, blooming flowers. If you aim for a serene ambience, softer, muted colors with a mix of flowers and greenery might be ideal. And for a touch of luxury, ornate arrangements with a combination of textures and colors will surely stand out. 
Best Balsam Hill Mother's Day Flower Décor
Here are some of our best-selling florals that are perfect for Mother's Day: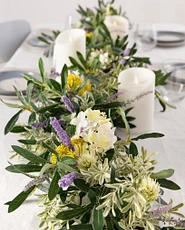 Features faux purple cattails, white lilacs, and thistle with mixed greenery. Also available as a wreath, arrangement, and swag.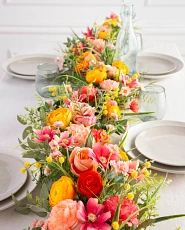 Features artificial cottage roses, ranunculus, peonies, billy buttons, cosmos, eucalyptus, and fern leaves. Also available as a wreath and flower arrangement.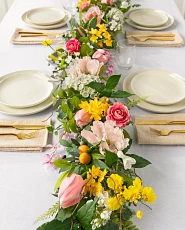 Features faux poppies, orchids, freesia, wild statice, ranunculus, cherry blossoms, kumquats, and tulips. Also available as a wreath and flower arrangement.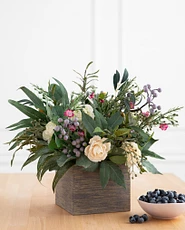 Features faux ranunculus, waxflower blooms, silver brunia, and assorted leaves. Also available as a wreath.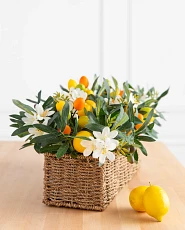 Features artificial kumquats, lemons, orange blossoms, olives, and olive leaves. Also available as a wreath.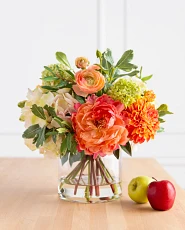 Features lifelike hydrangeas, ranunculus, mums, roses, and greenery in a clear glass vase.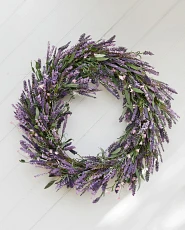 Features long artificial lavender stalks accented with pink flowers and silver-gray leaves. Also available as a swag.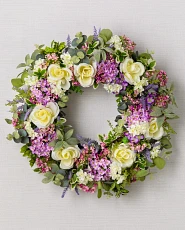 Features lifelike lilac, rose, lavender, and hydrangea flowers with mixed foliage.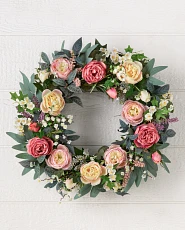 Features artificial cottage roses, eucalyptus leaves, dock stems, and ivy leaves. Also available as a potted arrangement and hanging basket.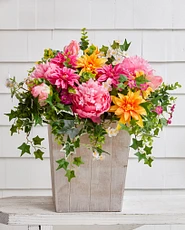 Features lifelike peonies, daisies, dahlias, chrysanthemums, lavender, ivy, and boxwood foliage. Also available as a wreath, garland, hanging basket, and window box.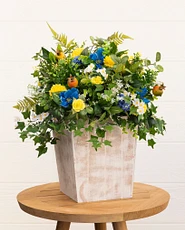 Features artificial gerberas, cornflowers, wildflowers, ivy, pomegranates, and assorted leaves. Also available as a wreath, garland, and hanging basket.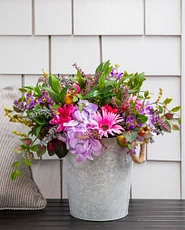 Features realistic lavender, daisies, pomegranates, rose hips, purple hydrangeas, pink gerberas, mixed berries, and leaves. Also available as a wreath, garland, hanging basket, and window box.
Pairing Artificial Flowers With Other Décor Items
A dining room adorned with elegant artificial flowers is undeniably beautiful. But pairing them with complementary décor items can elevate that beauty, crafting a truly enchanting setting. Learn how to decorate for Mother's Day with these tips:
Table Settings
The centerpiece of any dining room décor is the table setting. Combining your floral arrangements and tableware can create a visually compelling narrative. Try these Mother's Day table decorations: 
Soft-colored tablecloths or placemats – These can accentuate the vibrancy of your floral arrangements, creating a backdrop that lets the flowers take center stage.
Cutlery and glassware – Crystal glasses can reflect the colors of flowers, while gold or silver cutlery adds luxury to opulent blooms.
Ambience Enhancers
Beyond the tabletop, the room's ambience is pivotal in the overall dining experience.
Candles – The soft glow can enhance the colors of flowers, creating a warm and intimate atmosphere. Pairing candles and scents with faux florals can also create the illusion of fresh blooms.
Wall art and mirrors – Mirrors can make the room appear larger and enhance the impact of floral arrangements, while wall art that complements the flowers creates a cohesive look.

Textiles – Think of drapes, cushions, or even a rug. Their textures and colors can be combined with your floral choices, complementing or providing a contrasting aesthetic.
Dimension and Levels
Utilizing different heights and layers in your décor setup can create depth and interest 
Hanging décor – Flowering vines or suspended floral installations can introduce a vertical element, drawing the eye upward and maximizing the perceived space. 

Tiered arrangements – Using multi-level stands or platforms for your floral arrangements on the table can add dimension and allow for a more dynamic display.
By pairing artificial flowers thoughtfully with these elements, you're not just decorating a room but curating an experience.
Frequently Asked Questions
Here are the answers to some of the most common questions about decorating with flowers for Mother's Day:
Which Flower Represents Mother's Day?
Carnations are the traditional flowers associated with Mother's Day. The pink carnation, in particular, symbolizes a mother's love and gratitude. However, flowers like roses, lilies, and orchids are popular for Mother's Day bouquets.
What Flowers Are Traditionally Associated With Mother's Day Décor?
Mother's Day celebrations often feature a variety of flowers, including carnations, roses, lilies, and orchids. People also decorate with ribbons, balloons, and greeting cards. Pink and red are commonly used in these decorations, as they represent love and gratitude towards mothers.
What Are Some Tips for Arranging Flowers To Create Stunning Centerpieces?
To create stunning flower centerpieces, it's essential to choose a focal point and build the bouquet around it. Vary the height of the flowers, mix colors and textures, and incorporate greenery to add dimension and interest to the arrangement. Avoid overcrowding the flowers, and make sure there's enough space between each stem.
How Can I Coordinate Flowers With My Dining Table Settings for Mother's Day?
Consider the colors of the flowers and how they match the color scheme of the table settings. The arrangement should not be too tall or short, nor too big or small. We recommend keeping them low and compact so guests can see each other across the table. Lastly, select flowers that complement the overall theme of the table settings, whether it's rustic or formal.
What Are Some Heartwarming Mother's Day at Home Ideas To Make the Celebration Special?
To create a memorable Mother's Day at home, focus on personalized touches and thoughtful décor. Transform your space with elegant floral arrangements, prepare her favorite meal for a surprise brunch or dinner, and set the table beautifully. For activities, consider watching her favorite movies together, crafting a scrapbook filled with cherished memories, or even hosting a virtual gathering if needed.
How Can I Incorporate Mother's Day Wreaths Into My Dining Room Décor?
There are several ways to use Mother's Day wreaths to decorate your dining room. You can hang a wreath on your wall or door or place it in the center of your dining table as a centerpiece. You can also use smaller wreaths to decorate each dining chair or add them to your windows for a festive touch.
We hope this guide inspired you to get creative with your Mother's Day dining room décor. Click the button below to see our collection of lifelike florals.
Find More Mother's Day Décor Ideas
Read these next for more Mother's Day decorating ideas: