Balsam Hill's candles enhance the atmosphere and turn any room into a sophisticated and comfortable setting. Our flameless LED and traditional candles provide warmth and radiance to your living spaces, making them ideal for cozy gatherings or quiet evenings. With these candle centerpiece ideas for the dining table, every meal can be transformed into a special occasion.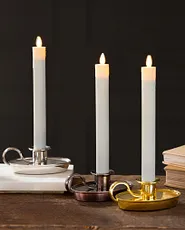 This set adds a nostalgic touch to any setting, emulating the charm of traditional chambersticks. Realistic flame movement and attention to detail make it a classic choice for vintage enthusiasts.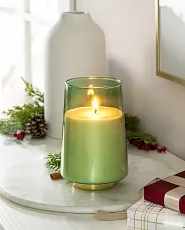 Although it hints at the festive season, this candle is versatile for year-round use. It adds a touch of elegance to any table with its minimal design and notes of oak moss, cinnamon, and eucalyptus.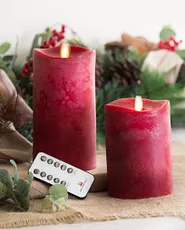 These dinner table candles have a remote control for adjusting flicker speed and brightness and a timer. They offer the lifelike glimmer of a real candle without worry over smoke, mess, or open flame – a must-have for safe and stylish dining.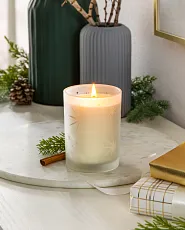 Delight loved ones with the fragrant blend of oak moss, cinnamon, and eucalyptus to complement romantic meals. Housed in a glass vessel with an intricate design, this stylish candle can also be a hostess gift for parties.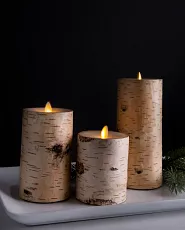 Bringing in the rustic charm of birch trees, this candle is perfect for nature-inspired settings. Its natural birch wrapping and warm glow are sure to elevate candlelight dinners.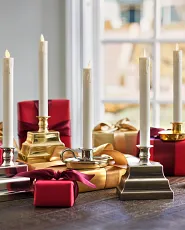 While primarily designed for windows, these candles are also perfect for the dining room table. Their slender design and bright glow can light up any space.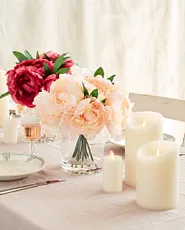 These pillar candles fit seamlessly into any décor style, making them versatile for any occasion. Their substantial size also makes them a prominent feature on your dining table.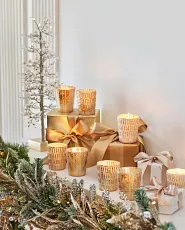 The metallic finish reflects the light beautifully, creating a mesmerizing dance of lights across the dining table – perfect for those who love a hint of glamour.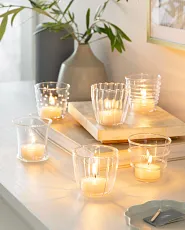 As the name suggests, these holders exude calmness. Their textured design and transparent look make them ideal for creating a serene dining experience.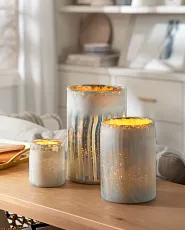 Create a cozy atmosphere for winter dinners with these frosted hurricanes. They're especially eye-catching when placed as a candle holder centerpiece.
Decorating Tips
Here's how to set the perfect mood for dinner with candlelight using Balsam Hill's range of flameless candles.
Safety First
Place candles on stable surfaces, whether real or flameless, to prevent them from being knocked over accidentally. Make sure there's enough space between each candle to avoid damaging nearby objects. This will keep your area safe and ensure you can enjoy the glow of the candles without any worries.
Layer for Depth and Dimension
Use a combination of tall and short candles to create a multi-dimensional look. Pair Miracle Flame LED Wax Pillar Candles with the Miracle Flame LED Window Candle Set for contrast. Varying the shapes of your holders can also introduce a dynamic visual element.
Accessorize
Place candles on mirrored trays or near glass objects to amplify their glow, making the room look brighter and more spacious. Incorporate natural elements like pinecones, stones, or seashells. For instance, natural birch logs or rocks next to Miracle Flame LED Birch Candles can elevate its rustic charm. Depending on the time of year, add seasonal touches like autumn leaves, spring flowers, or winter berries.
Create Balance
Instead of scattering candles, group them in threes or fives for a focused glow. Leave adequate space between each cluster to avoid a cluttered look.
Frequently Asked Questions
Got more questions? Let us light the way.
How Do You Display Candles on a Dining Table?
Depending on the table size and shape, arrange them as a dining table candle centerpiece or spread them apart for an even glow across the room.
What Can I Put as a Centerpiece on My Dining Room Table?
Aside from candles, consider flowers, decorative bowls, or seasonal fruits as year-round dining table décor.
How Do You Use a Candle as a Centerpiece?
Position it prominently, ensuring visibility from all angles, and complement it with other decorative elements such as foliage, fruit, or table linen.
How Do You Style a Table With Candles?
Consider the overall theme, use varied holders for a textured look, and always ensure a balanced arrangement.
What Are Dinner Candles Called?
Dinner candles are often called "taper candles" because of their tall, slender silhouette that narrows in size from the base to the wick.
Make hosting dinners more magical with Balsam Hill's range of candles. Our LED candles provide a lifelike appearance while ensuring safety, and our scented candles create a relaxed atmosphere that enhances any setting. Click the button below to see our complete candle selection.
Learn More About Decorating With LED Candles
Need more style inspirations for your home décor? Visit the links below.