Summer is a season of vibrant colors and blooming flowers, and there's no better way to embrace the time of the year than with beautiful front door summer wreaths. In this guide, you'll learn to choose from various styles, colors, and sizes to suit your preferences.
How To Choose the Right Size Front Door Wreaths for Summer
Finding the right-sized summer wreath is essential to achieve the perfect look for your front door. Measure the width of your door using a ruler or measuring tape to determine the maximum diameter a wreath can be without overwhelming the space. 
For standard-sized doors, wreaths between 18 to 24 inches are ideal.  

Larger doors or grand entryways can accommodate wreaths up to 30 inches or more. 
10 Best Front Door Summer Wreath Ideas
Find delightful summer wreath ideas that will bring joy and warmth to your front door below.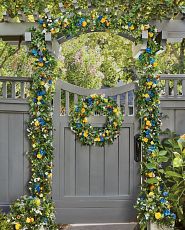 Outdoor Summer Breeze Wreath
This summer wreath features a delicate arrangement of gerberas, cornflowers, and pomegranates, complemented by lush greenery. It brings a refreshing and airy feel, perfect for welcoming guests into your home. Hang this on your front door or use it as a charming centerpiece for your backyard fence.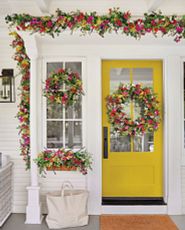 Outdoor Meadow Wreath
Embrace the natural beauty of summer fields with the Outdoor Meadow Wreath. This wreath combines lavender, chrysanthemums, and wildflowers to create a whimsical appearance. Hang it on your door to infuse a touch of the countryside into your urban dwelling.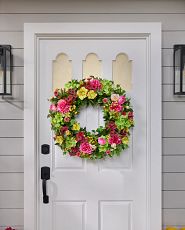 Outdoor Vivid Blooms Wreath
With an arrangement of radiant dahlias, zinnias, hydrangeas, and wild peonies, the Outdoor Vivid Blooms Wreath exudes elegance and sophistication. This outdoor summer wreath is perfect for a front door with a more refined look.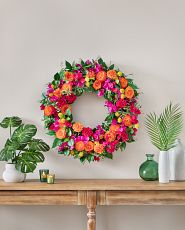 Tropical Sunrise Wreath
Transport yourself to paradise with the Tropical Sunrise Wreath. Featuring an array of ranunculus, bougainvillea, billy buttons, and hosta leaves, its vibrant colors and unique design make it a perfect statement piece for summer parties and gatherings.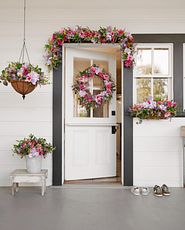 Outdoor Vibrant Summer Bloom Wreath
For a burst of colors, opt for the Outdoor Vibrant Summer Bloom Wreath. This wreath showcases an assortment of lavender, pomegranates, and rose hips, intermingled with mixed greenery, instantly lifting the mood of any al fresco space.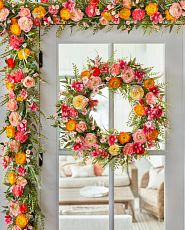 Sunrise Blooms Wreath
The Sunrise Blooms Wreath features the colors of a summer morning with its mix of cottage roses, ranunculus, and peonies. Its warm and inviting appearance sets the tone for a joyful atmosphere, whether hung on your entryway or used as wall décor.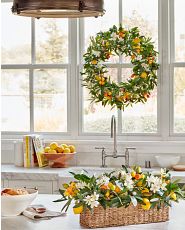 Villa Cucina Wreath
If you're looking for a wreath with a touch of Italian countryside charm, the Villa Cucina Wreath is an excellent choice. Adorned with olive leaves, kumquats, lemons, and orange blossoms, it creates a rustic and culinary-inspired ambiance. Hang it in your kitchen or patio for a unique summer display.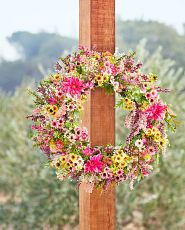 Outdoor Wildflower Fields Wreath
Embrace the carefree spirit of summer meadows with the Outdoor Wildflower Fields Wreath. This summertime door wreath features an assortment of daisies, heather, and pepperberries, giving your exterior spaces an organic and effortless look.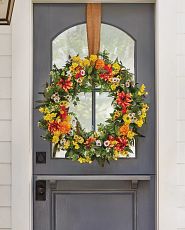 Outdoor Sunrise Dahlia Wreath
The Outdoor Sunrise Dahlia Wreath highlights the mesmerizing beauty of dahlias in various shades, ranging from bright yellows to soft oranges. The interplay of colors creates a captivating arrangement, perfect for transitioning your décor from summer to fall.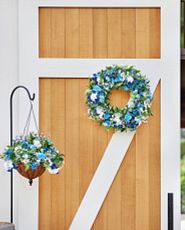 Outdoor Seaside Cottage Wreath
Inspired by the tones of sky and sea, the Outdoor Seaside Cottage Wreath evokes the serenity of coastal living. Adorned with forget-me-nots, lisianthus, baby's breath, and ivy leaves, it brings a touch of the ocean to your doorstep.
Frequently Asked Questions
Below we answer more of your questions on decorating with wreaths for summer.
Where Should You Hang Your Summer Wreath?
You can hang your summer wreaths on the front door to welcome visitors. You can also display them indoors, on walls, or above fireplace mantels to bring the essence of summer into your living spaces.
What Décor Should You Hang On Your Front Door in Summer?
Apart from summertime wreaths, you can consider hanging outdoor-safe artwork, bunting banners, or a personalized sign with a summer-themed message. Combine these elements with potted plants or hanging baskets to create a cohesive front door display.
What Can You Decorate Your Front Door With Instead of a Summer Wreath?
Consider using decorative summer swags as alternatives. A large sunflower or starfish-shaped door hanger, or a DIY floral arrangement are also good options. You can also opt for a macrame hanging with potted arrangements for a bohemian touch or a hanging basket with cascading flowers for a more whimsical look.
Summer wreaths and greenery offer an exciting opportunity to express your style and infuse your home with the vibrant energy of the season. Click the button below to explore our artificial flower décor assortment.
Learn More About Decorating With Wreaths
For more tips and inspiration, visit the links below.