With the holiday season in full swing, it's nearly time for the delightful tradition of counting down to Christmas Day. Consider indulging in a daily moment of anticipation and joy with the best Advent calendars from Balsam Hill. Learn more about their history and see our selection of elegant and festive designs that suit any holiday decorating theme. 
What Is an Advent Calendar?
Advent calendars are a popular way of counting the last 24 days before Christmas. They contain numbered doors or spaces that people open each day until Christmas arrives. Initially, the calendars were used by Christians in 19th-century Germany to mark the days of Advent, the holy period before Christmas. Over time, they evolved from their religious roots and became a fun holiday tradition for people of diverse backgrounds and beliefs to add excitement to the holiday season. 
5 Best Advent Calendars
Check out Balsam Hill's selection of elegant Advent calendars.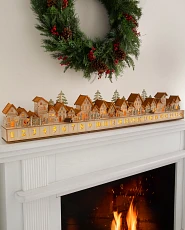 Evoke vintage charm with this traditional wooden village lit up with the warm glow of LED lights. Give it pride of place on your holiday mantel display and add matching stockings, miniature stockings, and other décor accents to create a festive vignette.
What better way to welcome Santa to town than with a depiction of him flying over cozy homes on Christmas Eve? Built-in LED lights allow you to illuminate each day of the countdown via a remote control.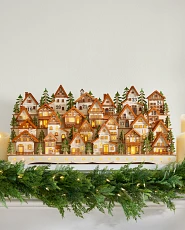 Our Lit Wooden Alpine Village is a show-stopping Advent calendar that will delight everyone in the family. Watch this sleepy village come to life as you light up one house at a time until Christmas. It features a timeless design you'd love to display for years.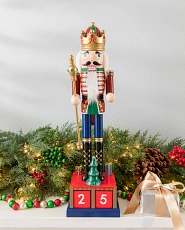 Let this brave soldier guard your holiday proceedings as you use the movable blocks to count down the days. Each one is handcrafted and hand-painted with slight variations, so you'll get a unique Advent calendar sure to become a family heirloom.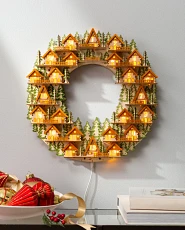 Create a charming and eye-catching display with an Advent calendar shaped like a wreath, with adorable hand-painted mini trees as "foliage." Commence the countdown to Christmas by lighting up each house on the wreath. Hang this above your fireplace mantel or entryway console, and let it fill your home with Christmas cheer.
Frequently Asked Questions
Here we answer some common questions about Advent calendars.
Why Do We Use an Advent Calendar?
Advent calendars help build anticipation and excitement for the holidays by counting down the days until Christmas. It's a fun tradition that helps families get into the festive spirit.
When Is the Best Time to Buy the Best Advent Calendars?
An Advent calendar makes a wonderful focal point in your Christmas décor. Plan to purchase one for display at the same time as the rest of your holiday decorations. As the calendar is used to count down the days before Christmas, make sure you have one before the start of December.
Where Can You Buy the Best Advent Calendars?
Balsam Hill offers a curated range of Advent calendars. Beautifully crafted with fine attention to detail, our Advent calendars will surely become family heirlooms you would love to display for years.
An Advent calendar is just one of the many ways you can uphold holiday traditions and fill your home with Christmas cheer. Visit the Balsam Hill website to see our selection of premium holiday home decorations. 
Learn More About Christmas Décor
Read these decorating guides to help you infuse your home with Christmas spirit.