Fall not only brings a shift to cooler weather, but it also means Halloween is on the way. It's the best time of year to show off your creativity in the spirit of merrymaking. Keep your exterior décor elegant with just the right touch of spooky fun with these lit-up outdoor Halloween decoration ideas.
WHAT IS THE MOST POPULAR HALLOWEEN DECORATION?
Pumpkins remain one of the most recognizable Halloween décor and displaying these iconic orange gourds is a sure sign that spooky season is upon us. Pumpkin carving is also a favorite traditional Halloween activity among many families.
But what takes pumpkins from mere sign of harvest season to star of the Halloween display is the perfect lighting. Illuminated pumpkins glowing in the dark give off a sinister aura. Even the Jack-o'-lantern needs his glowing grin to become one of the most-loved Halloween characters.
Bring your outdoor Halloween decorating to the next level with special lighting and pre-lit pieces. Whether you're looking to make your outdoor spaces cozy or creepy this season, Balsam Hill offers elegant outdoor lighting for all your fall and holiday decorating needs.
HALLOWEEN LIGHTING IDEAS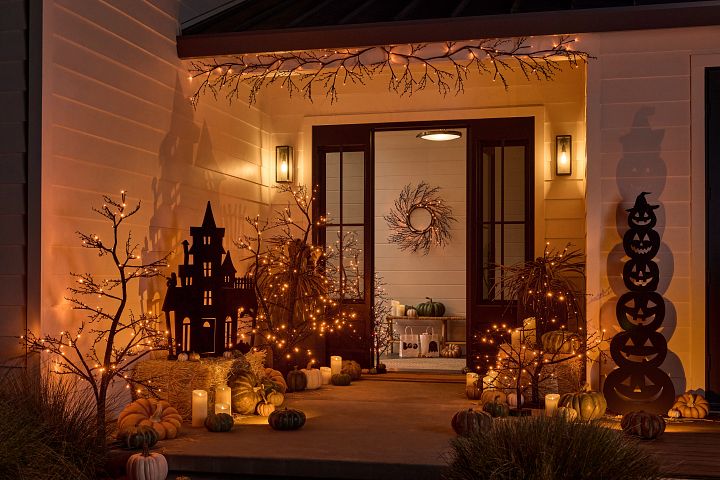 All outdoor Halloween decorating ideas benefit from the perfect lighting to set a spooky scene. For exterior décor, use outdoor-safe lighting options to ensure they cast a warm glow over the festivities year after year. Here are some Halloween lighting ideas to make your home the spookiest stop on the block.
Insider's Tip
Pre-lit decorations with LED lights are the more durable option. These often last longer than standard bulbs.
WHEN SHOULD YOU DISPLAY HALLOWEEN DECORATIONS?
Start planning your Halloween display as you transition your home to fall. Think about how you will incorporate Halloween pieces to your existing harvest-themed décor. hen considering when to start decorating for Halloween, many wait for consistently cooler weather especially when planning large exterior displays. While it all comes down to your own preference, many people often put up their Halloween décor in the two weeks leading up to the big night.
We hope these Halloween outdoor lighting ideas encourage you to create your spookiest display yet. For more inspiring home interiors, check out our BEST-SELLING FALL DECOR or see our ONLINE CATALOG.
SHOP FALL AND HALLOWEEN LIGHTING
LEARN MORE
Check out more Resource Center articles on fall decorating:
THANKSGIVING DÉCOR TO CREATE AN INTIMATE AND COZY CELEBRATION