Artificial flowers are a great way to add a touch of freshness to your space without the upkeep. The realism, however, isn't the same for all faux florals. In this guide, we'll share tips on how to choose the best artificial flowers, including the most realistic flowers in our collection.
TIPS ON CHOOSING THE BEST ARTIFICIAL FLOWERS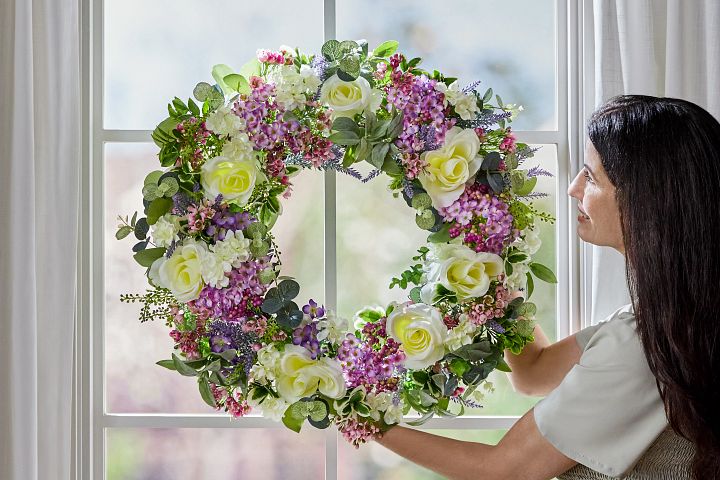 Here are the things to keep in mind when choosing artificial flowers for home decoration:
LOOK FOR HIGH-QUALITY MATERIALS
Silk, polyester, and plastic are some of the most common materials in making lifelike florals. Choose high-quality pieces that replicate the look, quality, and feel of real flowers.
PAY ATTENTION TO DETAILS
Check for small details like real-looking veins, texture, and edges on petals, leaves, and stems. The shapes and sizes of the petals should also be similar to their real counterparts.
CONSIDER COLOR ACCURACY
The best faux florals closely mimic fresh flowers in terms of color, tones, and shading. Check for consistency in the petals and leaves and how they look in different lighting conditions.
THE MOST REALISTIC ARTIFICIAL FLOWERS
Below are some of the most realistic pieces in our collection – from ARTIFICIAL FLORAL ARRANGEMENTS to lifelike flower wreaths and garlands.
FREQUENTLY ASKED QUESTIONS
Below are the answers to some of the common questions about artificial flowers.
WHAT ARE THE MOST REALISTIC ARTIFICIAL FLOWERS?
The most realistic flowers are those made from high-quality materials like silk, polyester, and foam. While each material has its advantages, polyester fabric achieves the most lifelike appearance. We offer a range of polyester flowers including dahlias, tulips, and peonies.
WHO SELLS THE MOST REALISTIC ARTIFICIAL FLOWERS?
Balsam Hill has a well-curated assortment of the most realistic artificial flowers in the market. Our designers mix and match different flower types and foliage to create beautiful and TRENDY FLORAL DISPLAYS.
WHAT TYPES OF ARTIFICIAL FLOWERS ARE BEST FOR OUTDOORS?
OUTDOOR-SAFE FLORALS are the best artificial flowers for decorating al fresco spaces. The foliage on these products is treated with UV protection so they can withstand the elements. To last longer, however, we recommend outdoor display for a total of 3 months every year.
We hope this guide helped you in choosing the best flower decorations for your space. Click the button below to see our full collection of artificial flower arrangements, wreaths, POTTED FLOWERS, and more.
LEARN MORE ABOUT DECORATING WITH ARTIFICIAL FLOWERS
Read these next for more guides and tips on decorating with artificial flowers:
WHY CHOOSE ARTIFICIAL FLOWERS: THE BALSAM HILL GUIDE
ARTIFICIAL FLOWERS: THE BALSAM HILL DIFFERENCE