BALSAM HILL IS THE NEW HOME OF FLIP TREE™
The legendary realism and quality of Balsam Hill is now powered by the most convenient and innovative tree technology ever invented.
SHOP FLIP TREES™ NOW »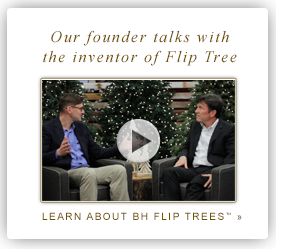 FLIP TREE™ JOINS BALSAM HILL™
In 2014, Balsam Hill acquired the exclusive rights to manufacture and market Flip Trees. Now the exceptional realism and quality of Balsam Hill's trees are married with the convenience of Flip Tree's inverted storage and mobility, creating a new standard for Christmas trees.
To learn more about the new BALSAM HILL FLIP TREES™, we invite you to WATCH A CONVERSATION between Balsam Hill's founder and lead tree designer, Thomas Harman, and Flip Tree inventor Bruce Schooley.
CUSTOMER SERVICE FOR OWNERS OF FLIP TREES PURCHASED PRIOR TO 2014
Please note that Flip Trees have been redesigned and improved to meet Balsam Hill's exacting quality standards; unfortunately, parts from Balsam Hill's Flip Trees are not backwards-compatible with first generation Flip Trees. Therefore, for trees purchased before 2014, please contact the retailer from whom you purchased your tree.
Frontgate customer service can be reached at: 1-888-263-9850
IF YOU WOULD LIKE TO PURCHASE A NEW FLIP TREE
Shop the complete assortment of stunning new Balsam Hill Flip trees™, now featuring our exclusive True Needle™ foliage and Easy Plug™ lighting system for the best Flip Trees ever.