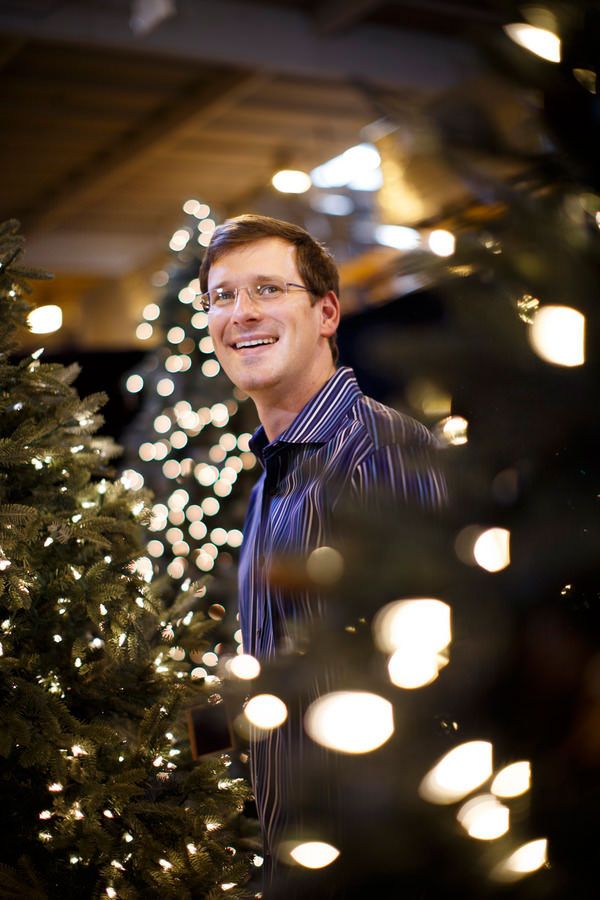 To Our Balsam Hill Customers,
You may be surprised to hear that Balsam Brands (the company that owns and operates Balsam Hill) filed a lawsuit in federal court against our competitors Frontgate and Grandin Road. Both of these retailers are part of Cinmar, which is part of Cornerstone Brands, all of which are ultimately owned by HSN, Inc. (the same company that owns the Home Shopping Network).
For those who may be curious, I wanted to take the opportunity to explain why a small, family-oriented company, recognized by Forbes as one of "AMERICA'S BEST SMALL COMPANIES" is suing a division of a publicly-traded company with revenues of $4 billion.
First, I would like you to know that we did not take this decision lightly. I would prefer to live my life having never filed a lawsuit. However, sometimes extraordinary circumstances arise.
In this particular case, Balsam Brands Inc. et al v. Cinmar, LLC et al, Balsam Hill has alleged that Frontgate and Grandin Road are illegally copying our patented Flip Tree. If you have never seen one, the Flip Tree incorporates a patented design that makes it extremely easy to move, set up, collapse, and store a Christmas tree. For instance, to take the tree down, you just remove the top section(s), turn the largest and heaviest part of the tree upside down on its stand, watch its limbs collapse with gravity, cover it with its bag, and roll it away for storage. To set up the tree, you just do the reverse (demonstration below). Frontgate's and Grandin Road's Inversion Trees do the same thing using essentially the same design: to take the tree down, you remove the top section(s), turn the bottom part of the tree upside down on its stand, its limbs collapse with gravity, and you slip its bag over it and roll it away for storage. But while Balsam Brands holds issued patents on a rotating Christmas tree with collapsible limbs, Frontgate and Grandin Road do not.
The history of this invention is interesting, and helps explain why we filed a lawsuit. The unique mechanical design of the Flip Tree was invented by Bruce Schooley of Alamo, California. A prolific inventor and Christmas fanatic, Bruce set out to design an artificial Christmas tree that would be safe and easy for anyone to set up and take down. After receiving a diagnosis of late-stage cancer, he set out to bring the invention to market as a way of helping provide for his wife Valerie after he had passed away. Fortunately, Bruce ultimately recovered from cancer and is still celebrating Christmas with Valerie every holiday season. Meanwhile, in 2008, he applied for a patent on his invention and was granted multiple US and foreign patents on the Flip Tree concept, including US Patents 8,062,718 and 8,993,077. The two US patents are titled "Invertible Christmas Tree."
Bruce marketed his invention to various retailers, most successfully to Frontgate, which featured Flip Trees as its premier artificial Christmas trees from 2009 - 2013. Frontgate's sister brand, Grandin Road, also sold a small number of Flip Trees as did other retailers such as Costco.
While Bruce benefitted financially from the sale of these trees, over time he grew dissatisfied with some of the ways that Frontgate conducted business and with his long-term future as a valued partner of Frontgate. In the process of exploring alternative ways that he could to market and sell Flip Trees, Bruce created a website to sell his Flip Trees directly to consumers and also wrote me a letter asking if I would be willing to meet with him.
Once Bruce and I connected in person, we had the first of many heartfelt conversations which ultimately led to Bruce deciding to sell his Christmas tree intellectual property (his Flip Tree patents and the Flip Tree trademark) to Balsam Hill. Additionally, as someone always eager to improve his own designs, Bruce eagerly agreed to continue to work with us to make Flip Trees that looked better, worked better, and are more affordable for our customers.
Working closely together with Bruce, we introduced our customers in Fall 2014 to what Bruce now calls "the best Flip Trees ever." We were able to bring all of our Balsam Hill expertise, realism, and quality to combine with Bruce's innovative Flip Tree concept. We were thrilled.
However, it appears Frontgate was not. Since Bruce sold the Flip Tree patents to Balsam Hill in late 2013, Frontgate no longer had the Flip Tree - or anything remotely like it - to sell to its customers in Christmas 2014. And while Frontgate is one of many subsidiaries of Cornerstone Brands, all of which together make up less than 25% of HSN's revenues, the absence of the Flip Tree in Frontgate's 2014 Christmas line-up apparently caught the attention of those at the top. HSN's CEO, Mindy Grossman, publicly cited the "lack of a very key tree that had driven a lot of the business that we were not able to have this year" as one of the factors affecting Frontgate's financial results in Q4 2014.
While we knew that Frontgate's sales suffered as a result of losing rights to sell the Flip Tree, we were not prepared for what happened next, since we had respected HSN and its subsidiaries as a retail giant with a focus on innovation, not imitation. On August 16, 2015, one of my Balsam Hill colleagues was shocked to see that Frontgate.com was offering an "Inversion Tree" that appeared to be eerily similar to the Flip Tree. We quickly purchased one of these trees to analyze it, and after consultation with many lawyers and experts filed a lawsuit against Frontgate (and Grandin Road, who also carried an Inversion Tree in 2015).
We have since learned that by January 2015, one of Frontgate's Chinese Christmas tree suppliers was hard at work designing what we believe is an obvious imitation of the Flip Tree - the product that Frontgate now calls its "Inversion Tree." We think Frontgate's actions are an affront to fair competition and the protections that the American Constitution and Congress have given to inventors. After we invested a lot of money to rightfully buy the Flip Tree patents from their inventor and work with him to bring the best Flip Trees ever to our customers, we now find ourselves having to protect our Flip Trees against imitations sold by the very company that, not that long ago, sold the Flip Tree legitimately.
Unfortunately, I am not able to freely discuss any details of this case with you since the matter is an active federal court case. What I can say is this: If you consider purchasing a Flip Tree, I hope you will purchase it from Balsam Hill. When you buy a Flip Tree from Balsam Hill, you are getting the real deal.
Sincerely yours,
Thomas Harman
Founder & CEO, Balsam Hill