Stunning Christmas Tree Themes You'll Want to Recreate
Twelve lifestyle bloggers share their decorating ideas for turning the Christmas tree into a treasure trove of fond memories
What's Inside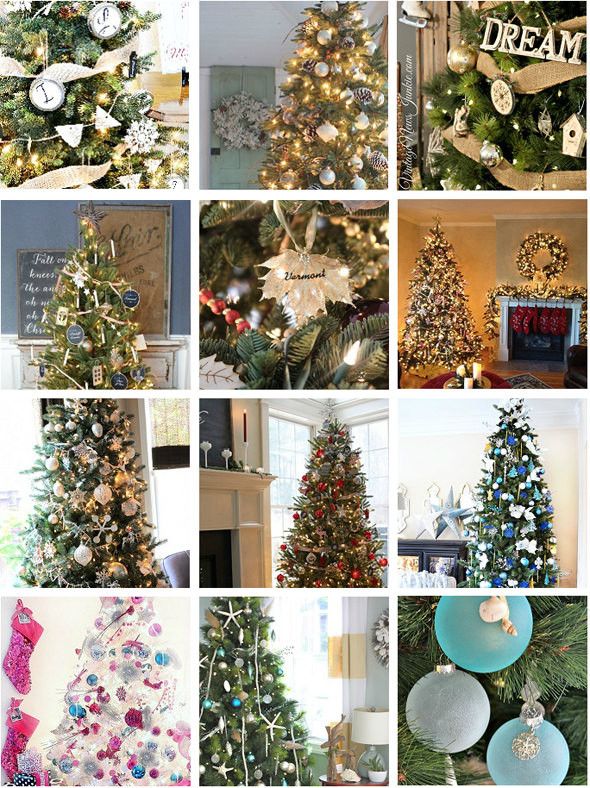 12 Beautifully Decorated Balsam Hill™ Christmas Trees
More than just seasonal décor, the Christmas tree is a testament to the love between members of the family. Decorating this yuletide masterpiece gives everyone a chance to come together and cherish moments you've shared throughout the year. The Christmas tree, thus, becomes a treasure trove of fond memories.
Each Christmas tree tells a story – and the more creatively decorated it is, the more meaning it holds for you and your loved ones. For this reason, we at Balsam Hill have taken inspiration from the designs of the best home décor and lifestyle bloggers and curated a selection of Christmas tree decorating ideas you'll love.
How to Decorate a Christmas Tree with Monograms & Typography
A unique way to personalize your Christmas tree is to adorn it with words and symbols that you believe best capture the meaning of the season for you and your loved ones. Vanessa of At the Picket Fence turned her Balsam Hill Greenwich Estates Pine Christmas tree into a hallmark of her love for the family. She did it by inscribing the initials of her loved ones on handcrafted Christmas decorations.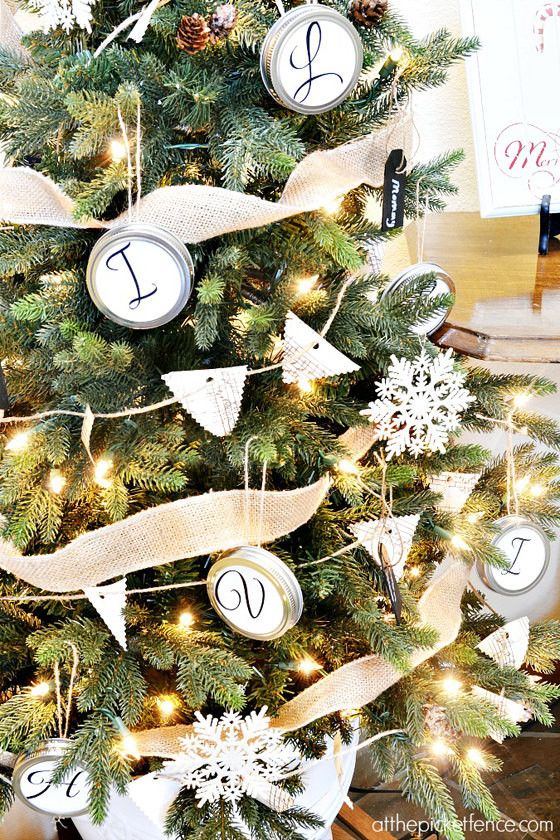 How to Recreate Vanessa's Monogram Christmas Tree
Vanessa used mason jar lids as her signature ornaments. The carton on the inside of the lid was taken out, written on, and glued to the outer surface of the lid. A piece of twine was also looped and glued to the back of each lid to allow for easy hanging on the branch tips. Her children also wrote on little chalkboard tags the words that represented the meaning of Christmas to them. Handwritten notes like these will give your own Christmas tree a personal touch.
How to Decorate a Christmas Tree with Woodland Accents
The rustic look is a timeless holiday decorating theme. In more recent years, it has been reinvented with a touch of glam. But for those of us who love the classic woodsy charm of evergreen forests, staying true to the beauty of nature is key to this decorative style.
Courtney of the French Country Cottage gave her Balsam Hill Colorado Mountain Spruce™ that wondrous woodland feel when she decorated her artificial evergreen with white, silver, and snow-frosted accents reminiscent of a wintry landscape.
How to Recreate Courtney's Woodland Masterpiece
The secret to creating an inspiring woodland masterpiece is to highlight the lifelike features of holiday decorations: from the foliage to the ornamentation. The dark green color and ultra-realistic texture of the Colorado Mountain Spruce brought out the charm of Courtney's white and silver décor. To heighten the realism of her Balsam Hill Christmas tree even more, she used snow-kissed pine cones, red berries, and twigs, and included more wintry accents, such as mercury glass pine cones and icicles.
How to Decorate a Christmas Tree with a Rustic Touch
Rustic Glam
One Christmas tree decorating style that takes the best of both traditional and contemporary holiday themes is the rustic glam look. Country-styled ornaments are either paired off with other sparkly decorations or simply covered in glitter. The Balsam Hill Shasta Fir decorated by Ashley Thurman of Cherished Bliss best reflects this style.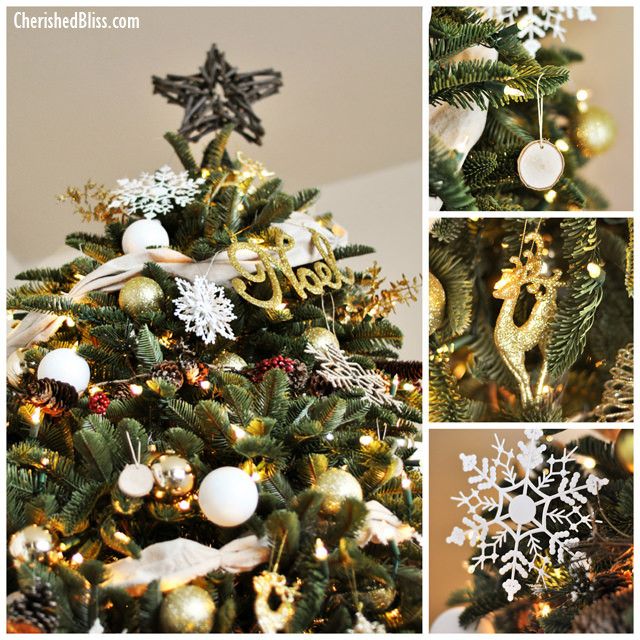 How to Recreate Ashley's Rustic Glam Christmas Tree
Ashley took a combination of woodsy ornaments as well as gold-glittered décor. To balance these two contrasting looks, she used bright white decorations, such as snowflakes and snow-white Christmas balls. The top and bottom sections of the tree reflect bucolic charm: this is achieved through the use of a star tree topper made of twigs and a tree skirt made with drop cloth left over from Ashley's other DIY Christmas decorating projects.
The midsection of the tree, meanwhile, is teeming with gold ornaments. The branches are stable and sturdy enough to support the abundance of décor.
Vintage Rustic
For home decorators who love country-styled décor that speak of a cherished memory, the vintage rustic look is the ideal style. Candace of Vintage News Junkie used this theme to decorate her Balsam Hill Scotch Pine. The focal point of her tree is a wooden cutout of the word 'Dream,' an ornament she received as a gift to commemorate the start of a new chapter in her life. It continues to symbolize her aspirations.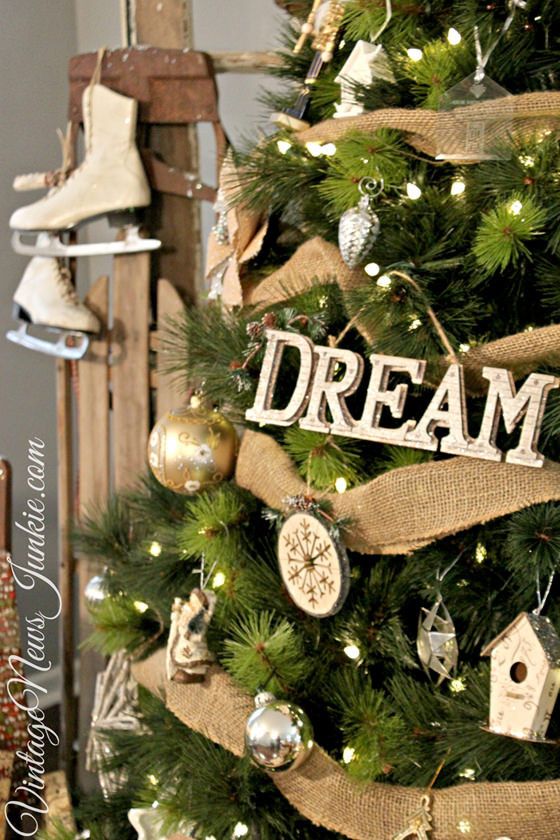 How to Recreate Candace's Vintage Rustic Christmas Tree
The rustic elements that adorn Candace's pine tree are primarily in earth tones of dark brown and light brown and set off by cream-colored accents. This color scheme echoes a classic country charm.
Flowers made of burlap and adorned with silver beads pop out of quiet corners of the evergreen, while white bells with silver ribbons, small cream-colored birdhouses, and stars made of twigs and coated in white enamel paint embellish the outer branches. The band of burlap wrapped around the Christmas tree completes the look.
How to Decorate a Christmas Tree with Vintage & Treasured Items
Traveler's Trinkets
Travel provides many home decorators inspiration during the holidays. Jeanne Oliver adorned her Balsam Hill Nantucket Blue Spruce Instant Evergreen™ Christmas tree with trinkets and souvenir from her trips to Europe, Mexico, and even simply the local flea market. These treasured pieces not only reflect her love for vintage and art but also add a variety of textures and layers to her tree.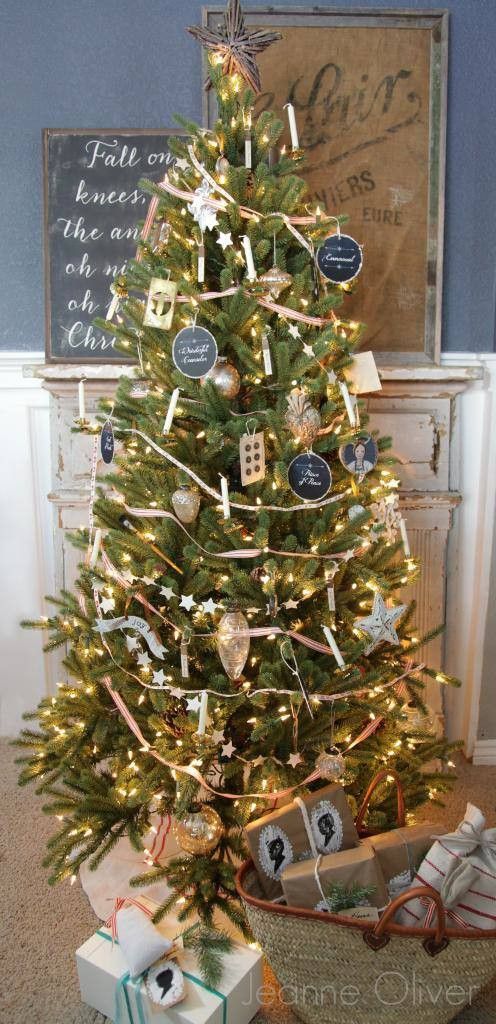 How to Recreate Jeanne's Vintage Christmas Tree
Quaint items – such as French pocket watches, laundry labels, and vintage buttons – give Jeanne's Christmas tree an air of nostalgia. To add some visual interest, she included a red ticking ribbon as a garland, as well as pine cones, white candles, chalkboard ornaments, and three old paintbrushes in place of the usual Christmas icicles and baubles. The weathered look of the star tree topper made of twigs ties in with the vintage feel of this Nantucket Blue Spruce.
Colorful Shiny-Brite Ornaments & Kids' Handicrafts
Treasured items, however, need not always look worn out to come across as vintage and time-honored. Jennifer Rizzo's style of decorating her Balsam Hill Colorado Mountain Spruce™ also conveys a sense of personal history with ornaments from her past and present – and all of these decorations come in bright, shiny colors. How to Recreate Jennifer's Christmas Tree with Colorful Treasures
Jennifer uses a collection of vintage Shiny-Brite ornaments handed down to her by her family. These classic yet fanciful Christmas balls add color and sparkle to her evergreen and also blend well with the cute decorations handcrafted by Jennifer's children. Such handicrafts include paper snowflakes and a Christmas wreath made of felt.
These two sets of Christmas décor provide a bridge between the past and the present. They also equally serve as colorful accents to the lush foliage of the Colorado Mountain Spruce, whose branches hold heavy ornaments beautifully in place.
How to Decorate a Christmas Tree with Traditional Elegance
To exude timeless elegance, a Christmas tree should play with traditional hues in a variety of textures. In decorating her Balsam Hill Shasta Fir, Beth of Unskinny Boppy mixes classic colors of burgundy with gold and bronze but also introduces an array of shapes, patterns, and textures through her unique ornamentation.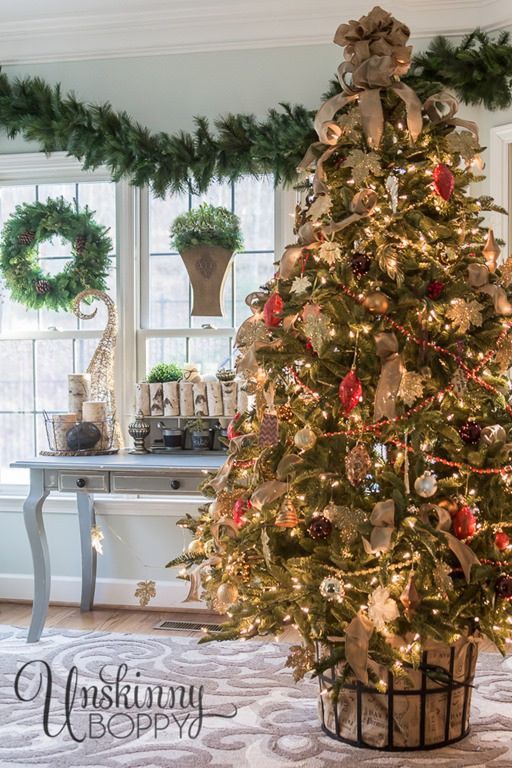 How to Recreate Beth's Timeless Christmas Tree
Beth adorns her Christmas tree in rich warm colors but also creates a visually interesting ensemble by using gold leaf accents, glittery and shiny Christmas balls, Alabama ornaments with a chevron pattern, and beaded strings of red and gold – yet she offsets all these elegantly with bows made of burlap.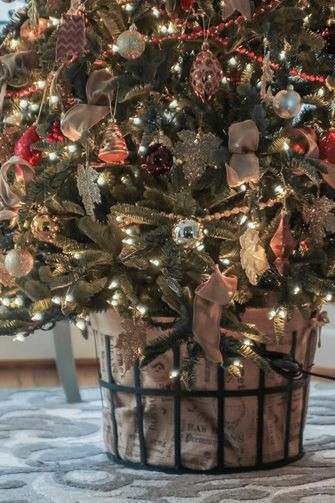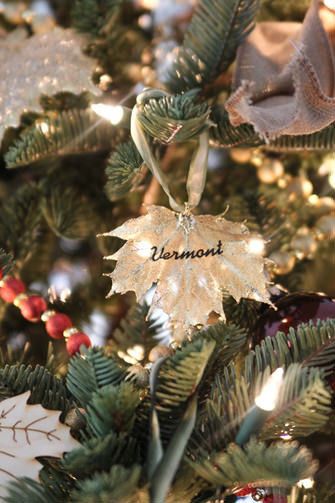 The collection unravels a myriad of shapes and textures even when the palette itself is limited to only three main colors. This is a mastery of the traditional decorating techniques of balance and contrast.
How to Decorate a Christmas Tree in Unique Color Combinations
Pink & Gold
Gold as a classic Christmas color, when blended with warm shades of pink, can lend an atmosphere of romance and sophistication during the holidays. Balsam Hill's resident design expert Dagmar Obert took traditional Christmas tree decorating to the next level by using adornments in this opulent color combination. Her prelit California Baby Redwood™ Christmas tree glistens when the luminescence of the clear lights is cast on the gold decorations yet softened by the pink accent pieces.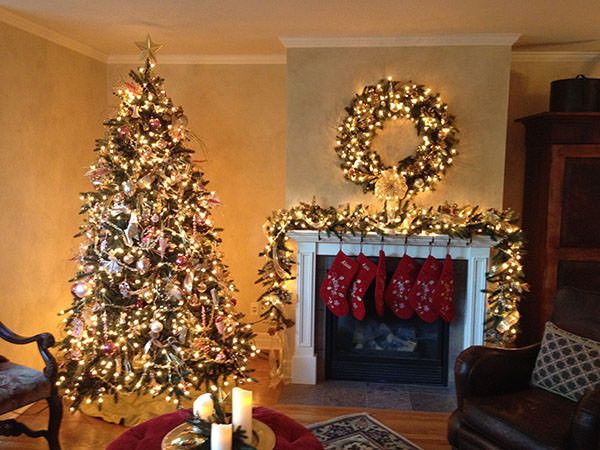 How to Recreate Dagmar Obert's Pink & Gold Christmas Tree
Dagmar uses a selection of pink ribbons, flowers, shaded grass, and signature ballerina ornaments to add a hint of femininity to the design. At the same time, she also incorporates gold bead garlands and ostrich feathers to add drama. The secret to the romantic style of her tree is in the use of soft, feathery, and dainty textures set in a luxurious color palette.
Silver & White
A classic color combination often seen during the holidays is the pairing of silver with white. The King Mountain Pine decorated by Kristin of My Uncommon Slice of Suburbia uses this subtle – almost achromatic – color scheme to provide shimmer to the traditional wintry décor.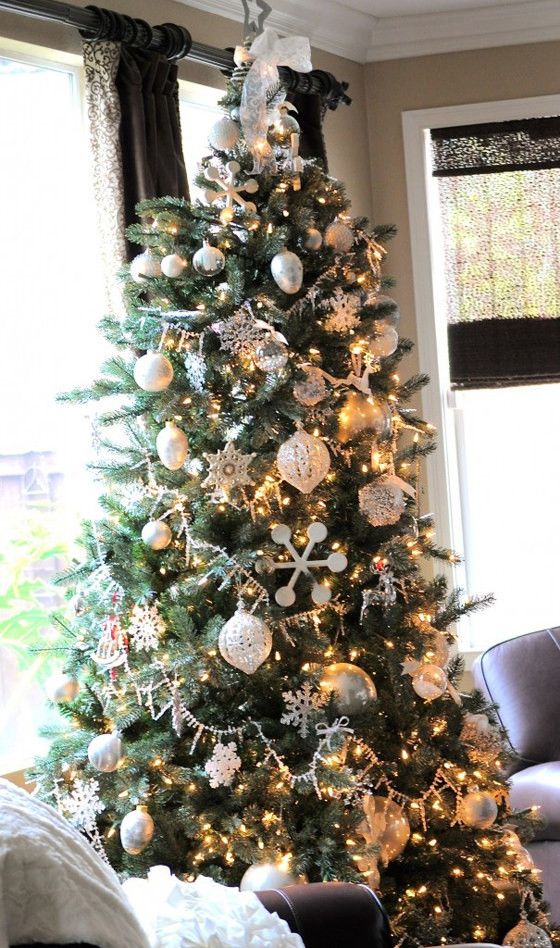 How to Recreate Kristin's Wintry Silver & White Christmas Tree
Aside from the usual solid-colored Christmas balls and snowflake decorations in white and silver, Kristin's pine tree uses transparent ornaments as well. These icy ornaments mimic how frost forms beautifully on some branches during winter. The traditional ornaments also don unique lace-like patterns that offer textural variety, an important technique when the palette is limited to muted colors.
Red, Black & White
The use of red, black, and white lends a traditional Christmas tree some modern vibe. The palette breaks away from the oft-expected red-and-green holiday hues and introduces the stark contrast of black and white against the warmer crimson. Laura of Finding Home uses this color scheme effectively in her Balsam Hill Nantucket Blue Spruce Instant Evergreen™ Christmas tree.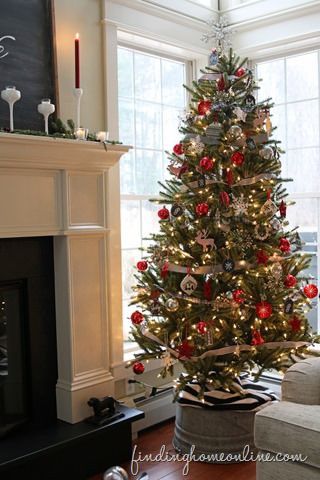 How to Recreate Laura's Red, Black & White Christmas Tree
Opting for a smaller-than-usual holiday tree, Laura placed her Balsam Hill evergreen on an upside down galvanized bucket for some added height and drama. She filled the upswept branches with vintage and DIY ornaments in this trio of colors.
The larger ornaments, such as the Christmas balls and bells, are in bright red to command attention towards the tree. Black and white ornaments such as ribbons and stamped or hand-painted décor surround these pops of color that are evenly distributed throughout the layers. Red and gold stars and white snowflakes add a festive touch to this Christmas tree.
Blue, White & Gold
A blue Christmas is a favorite among home decorators who love transitional palettes – color combinations that can go from traditional to contemporary. The towering Vermont White Spruce™ adorned by Heather of At the Picket Fence captures this versatile color scheme by using blue, white, and gold.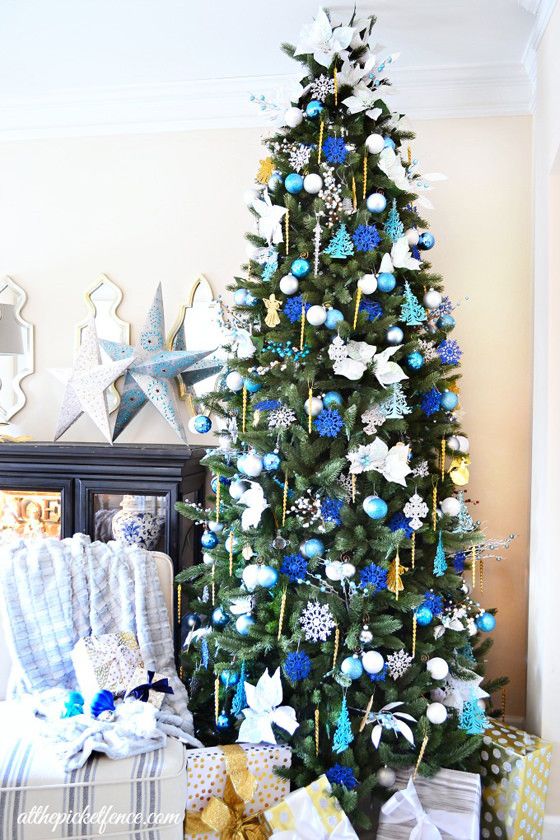 How to Recreate Heather's Blue, White & Gold Christmas Tree
Christmas balls and snowflakes in sky blue, aqua blue, and cobalt blue add some color variation to Heather's Christmas tree. On the other hand, Christmas balls, snowflakes, flowers, and twigs in pristine white soften what would otherwise be a very busy color combo. The linear balance offered by the gold icicles serves as a counterpoint to the dominance of round décor.
How to Decorate a Modern Christmas Tree
While many home decorators opt for the more traditional silvery green or forest green Christmas trees, others love to play out the bold colors of their modern décor by choosing a basic white Christmas tree.
KariAnne of Thistlewood Farms chose Balsam Hill's Classic White Christmas tree for her unconventional Pink-a-Palooza masterpiece, a funky mix of disco balls and bright pops of color.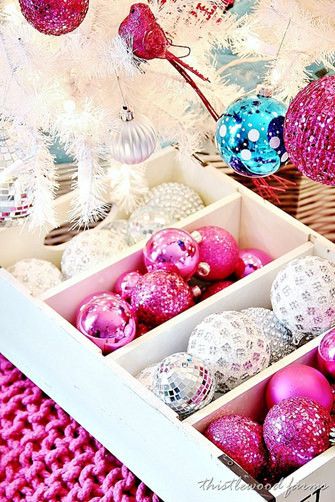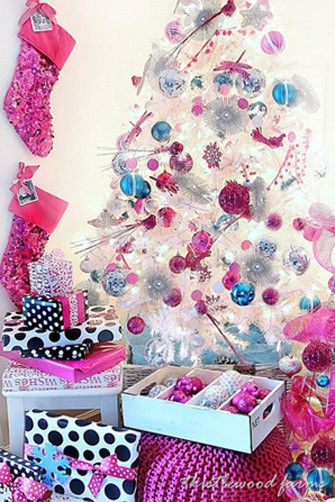 How to Recreate KariAnne's Pink-a-Palooza Christmas Tree
With wintry white foliage as the backdrop of KariAnne's holiday decorations, she could easily create a unique color palette of fuchsia pink and turquoise blue, balanced off by silver and white ornaments. But the spherical accents on her tree are no ordinary Christmas balls – they are either miniature disco balls or Christmas balls that are sequined or encrusted with glass beads. These sparkly details add another dimension to the already lustrous color combination.
Some Christmas balls are glossy and others matte. Some are adorned with dots, stripes, or swirls to give the modern and edgy Pink-a-Palooza tree a whimsical appeal. To bring out the fanciful look of this ensemble even more, the star, snowflake, bird, and dragonfly ornaments are covered in pink or silver glitter.
How to Decorate a Coastal Christmas Tree
For lovers of nature, the beach is another source of holiday decorating inspiration. Kim of Sand & Sisal combined her love for home decorating with her fascination with the surf, sand, and sea when she put together her Balsam Hill Scotch Pine. The result is a vibrant Christmas tree that is reminiscent of summers at the beach.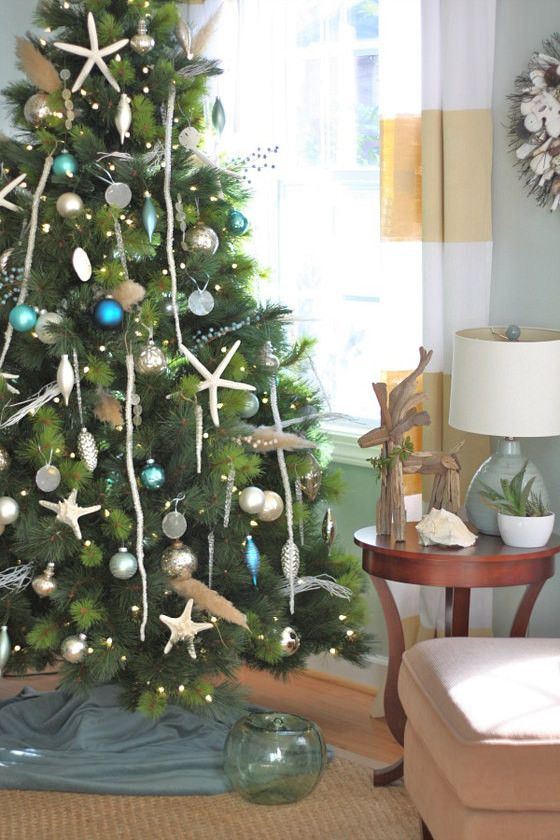 How to Recreate Kim's Coastal Christmas Tree
Starfish, sand dollars, and sea shells are signature ornaments on any coastal Christmas tree. For Kim's holiday masterpiece, however, she added unique decorative accents. First off, she stuffed pampas grass fronds in between the lush pine needles to make the evergreen look more 'beachy.' In place of the usual garland or ribbons, she used whip coral spray painted in white and encrusted with Epsom salt. These 'icy' strings blend well with the traditional icicles.
The Christmas balls made from sea glass and the icicles made from capiz emit a soft translucent glow when placed next to clear lights.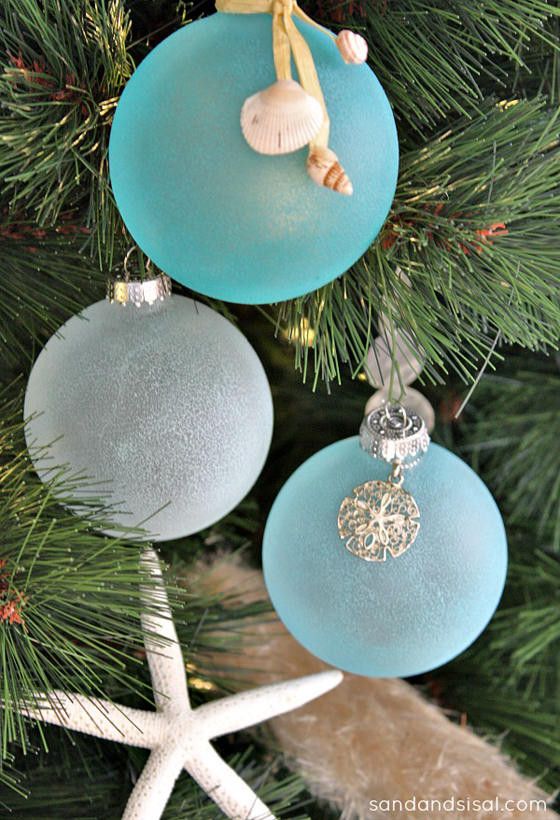 Ivory white Christmas balls, on the other hand, look like giant pearls nestled between the branches. This palette of white and turquoise, aqua, and sky blue reflects cool coastal colors that are always refreshing to the eye.
Decorating a Christmas tree is about telling a story. Beyond the breathtaking beauty of your holiday display, your Christmas tree and ornaments chronicle memories that continue to hold a place in your heart. And this chronicle begins with choosing a special Christmas tree.